Maharajas' Express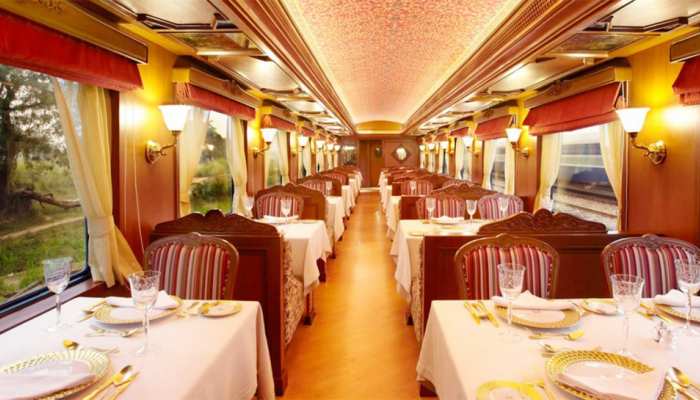 Maharajas' Express, a train known for its luxurious journey and providing a glimpse of the ancient kingdom and empire of great kings. Maharajas' express was launched in 2010 to make people experience a journey traveled by rulers of ancient times. This luxury trains makes an individual feel the fragrance of royal riches and imperial time.
Maharajas' express covers about 12 awesome destinations across the northwest and Central India between October and April. This splendid train has 23 gorgeous carriages, 14 exquisite guest cars with a price between $ 2,910 -$ 23,700 depending upon different packages.
Golden eagle train -Siberian express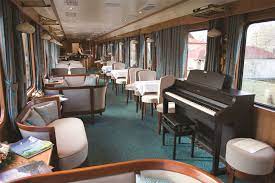 Golden eagle train -Siberian Express provides you with the world longest journey by train. This awesome journey is of 15 days. It will take you to seven different time zones of two different continents.
This magnificent train travels across mysterious Russia going over the Urals to connect the west in Moscow (capital of Russia) to the east of vald vostogle.
Siberian Express offers you an epic journey of your life which is full of satisfying services with different theme carriages like a beautifully appointed bar, two lovely restaurants and many other amusing goodies with the price of $2000 for the night.
Also Read: Most traveled destinations in India
Royal Scotsman
Royal Scotsman a luxurious train in Scotland that offers you an opulent journey of your life and takes you in the heart of nature.
This gorgeous train provides you with an unforgettable journey as it takes you on a tour of the different landscapes of Scotland awesome landmarks, blissful pine-clad mountains, mirror still lochs. Despite this, Royal Scotsman provides you hedonism private cabin where you can spend from extravagance day.
This aristocratic train is made up of 10 incredible cars, two dining cars, five state cars, and a stunning SPA car which will make your day. The price for a trip with Royal Scotsman starts from $ 2216 per night and further depends on the destination.
Venice Simplon
Venice Simplon orient express was launched in 1982 and now it is owned by Belmond. This Orient Express will take the train journey on a different platform and provide a classic and elegant tour to its passengers.
VSOE opulency mesmerized people by its bliss in accommodation, dining and best amenities. This train runs from March to November.
This magnificent train has a total of 18 carriages– 12 sleeping cars,3 dining cars, a bar car and two former class sleepers – all are full of gratified services and pleasurable peace. Prices of VSOE starts from $1900 per night and further depend upon the type of carriage you demanded.
Eastern and Oriental Express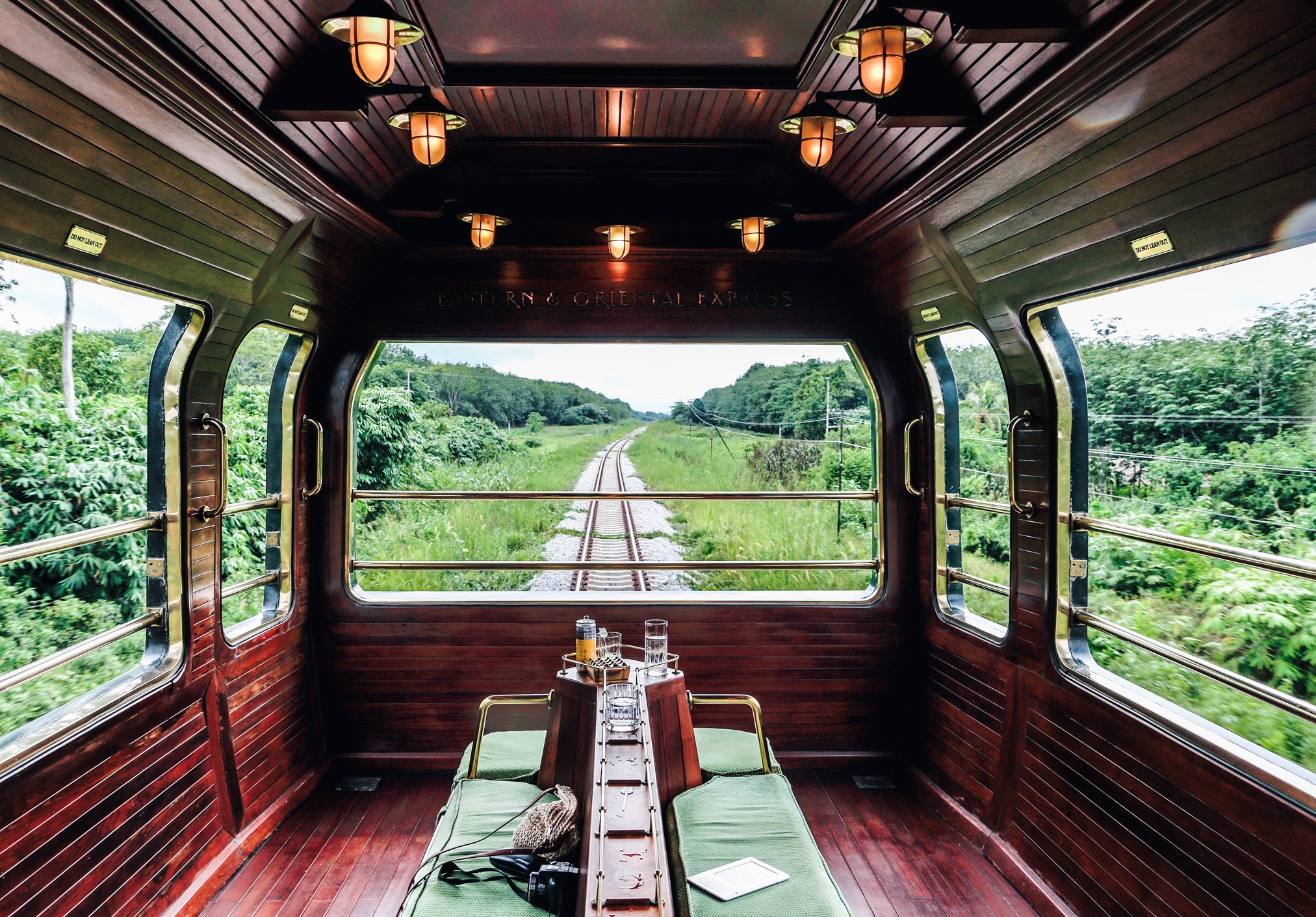 Eastern and Oriental Express is a hedonic train operated by Belmond limited that carries passengers between Singapore, Malaysia and Thailand.
This glossy train is full of fun and frolic movements of the journey that offer each and every service and goodies. This train has a fully air-conditioned compartment with en-suite classic bathrooms.
This popular train has more than 21 characters: 6 Pullman sleeping cars, 7th state sleeping cars, one presidential sleeping car, 3 dining cars, one bar car, a saloon car with library room, gift shop with additional dinner seating facilities, one power car and to start sleeping car. This train runs from September to April and the cost per head is $2690 a trip from Bangkok to Singapore.
Palace on wheels
Palace on wheels is another luxurious train that will take you on India's tour while catering the finest royalty.
It covers the goodness and enjoyment of Rajasthan along with Jodhpur. It is fully air-conditioned and has 14 deluxe saloons with twin-bedded Chambers, channel music attached to washrooms and wall to wall carpeting. It also provides you with a restaurant and shopping facilities. Each cabin is named after the former princely state.
Its price is US $900 per person per night and for the lean season, it is US $1160 per person per night.
Golden Chariot
Golden Chariot is a luxury trains that connects tourist places like Karnataka, Kerala, Goa and Tamil Nadu. It is having an extraordinary logo of two animals having a lion body and an elephant head.
It has 11 coaches and offers accommodation in 44 cabins that are named after dynasties. It also consists of two restaurants, along with a bar, conference room, gym and spa facilities. Importantly, it is having broadband internet connectivity and a television facility. Its main destinations are the pride of Karnataka, jewels of the south and glimpses of Karnataka.
Its prices differ from your occupancy type. For all three destinations, its average price is $ 12600 for 6 nights and 7 days.
Deccan Odyssey venture
Deccan Odyssey is a venture of Maharashtra government of India and ministry of railways. The main aim of the luxury trains is to provide a royal tour to its passengers and promote tourism in India. Deccan Odyssey has 40 deluxe cabins in 10 carriages. It also has four presidential suites in 2 cars, one conference car with a business centre, two restaurants, a well-stocked bar and a spa with steam massage a mini gym, a parlour and a library as well.
The price per head for this imperial journey started from $ 7320 per cabin per journey and further, depends on your trip.
Maitree Express
Maitree Express is a luxurious Indian train operated by Indian railways is considered to be the pride of India as that is one of the international trains. Maitree Express provide its passengers with the outmost opulent services of food, accommodation and amenities. This luxury trains is first fully air-conditioned. The regular right train connects Dhaka in Bangladesh with Kolkata in the Indian state of West Bengal.
This maitree Express takes you to the streets of Dhaka and Kolkata and make you experience the culture of West India. Nowadays maitree train runs only 6 days a week.
Rocky Mountain
Rocky mountain Canada is operated by a Canadian rail tour company that serve more than 1.7 million guests on its routes and won the world's leading travel experience by train awards 7 times.
Rocky mountain Canada provides you with a memorable and luxurious experience of general journey distance covering a route of mountain, valley and hills of Canada. The Rocky Mountains make passengers shake hands with them which bliss their eyes with the glitter of nature.
The awesome scenario of the Rocky Mountains experience by passengers is incredible. This amazing luxury trains run in day time mostly to provide a healthy view of mountains to its passenger with prices starting from $1600 per head or further depending on destination to destination.