Through their expertise in identifying, connecting with, and surrounding themselves with successful and talented professionals, Sandeep Shroff, Sudhir Pai, and Supriya Pai have established their success across the outsourced finance and accounting, CFO, taxation, and wealth management services sectors. And the image(s) of their brands stand as a validation of what they are doing and what they set out to do.
"Choose co-founders the way you would choose a spouse." – Entrepreneur & Author Danielle Newnham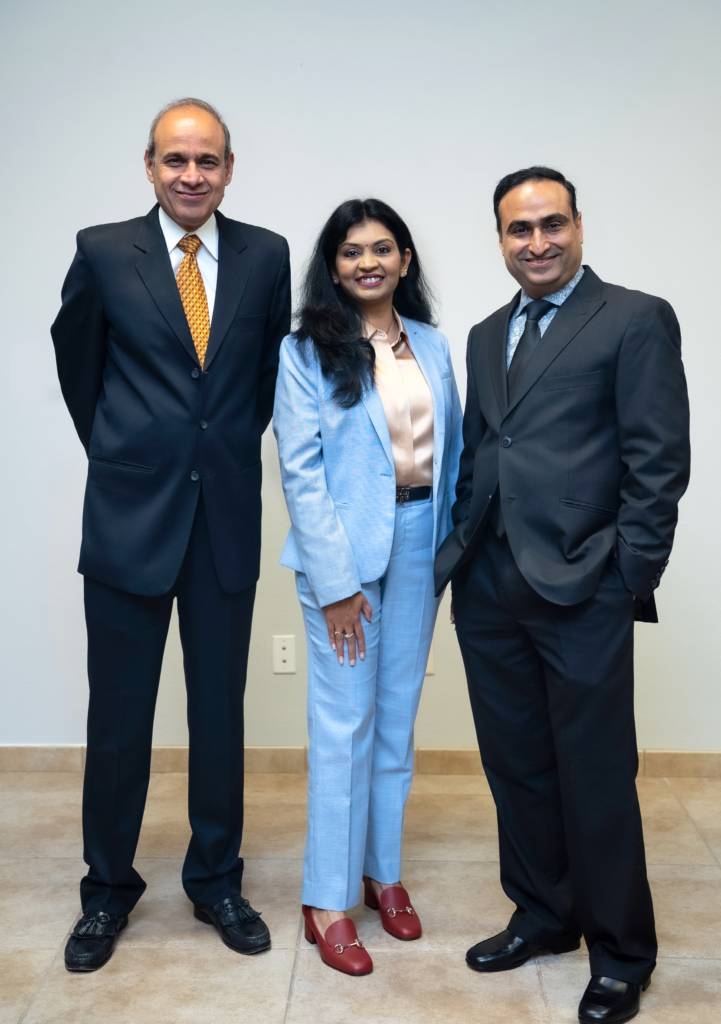 An efficient co-founder is a prerequisite for a successful company. And that's what led us to delve into the astonishing journey of three
brands and their leaders. Sudhir began his entrepreneurial journey in 2008 with Global Value Add. Inc.– a full-scale tax planning and filing service provider for businesses and individuals. The company's operating arms are myStartUpCFO, co-founded by Sandeep Shroff and Supriya Pai's venture MyTaxFiler.com, all providing services in the areas of bookkeeping, Interim CFO (Chief Financial Officer) and tax compliance. Sandeep, Sudhir and Supriya share with us their entrepreneurial journeys and the brands they have built.
myStartUpCFO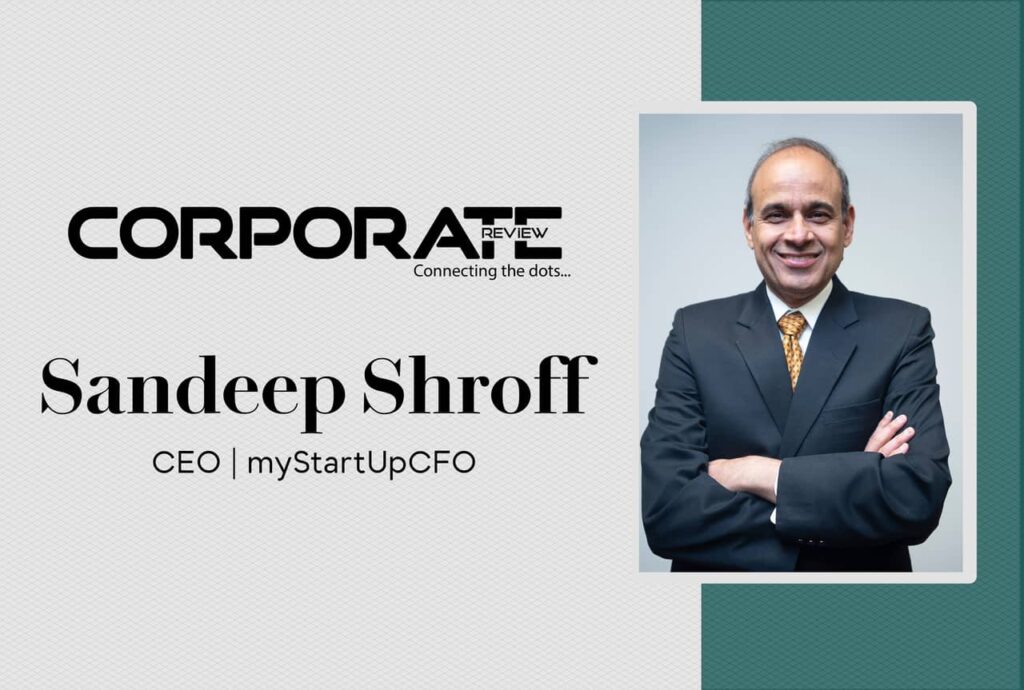 Prior to becoming an entrepreneur, Sandeep worked in software development in Silicon Valley, investment banking and research on Wall Street and investor relations and M&A at Infosys. His first entrepreneurial attempt was an equity research firm focused on organizing public company reported financial and operational data; the startup was an early adopter of cloud technology and used software to automate structuring unstructured data into information usable by hedge funds and mutual funds. The recession of 2007-2008 forced that endeavor to shut down in 2010.
"It was in 2010 that I started consulting for various clients, in roles ranging from product to operations to finance to management. Most
of my clients were asking for help raising money, cleaning their books, and creating pitch decks. That's when I had a conversation with my friend and former colleague from Infosys, Sudhir Pai, who specializes in taxes. In 2013, we started myStartUpCFO to help startups navigate the finance and accounting side of their business," recalls Sandeep.
WE SPEAK WITH SANDEEP WHO HELPS ALIGN AND FOCUS THE TEAM ON THE COMPANY'S TOP PRIORITIES. EXCERPTS
GOING FORWARD: THE CHRONICLES OF MYSTARTUPCFO
myStartUpCFO was born to solve a crucial problem: helping early-stage founders focus on their business while mitigating common startup killers such as lack of financial oversight.
myStartUpCFO provides a fully flexible CFO office to startups – from day-to-day bookkeeping based on US GAAP and accrual-based accounting to help with fund-raising, Board & investor reporting, budgeting and planning, compliance, taxation, etc. So far, we have worked with 2,000+ entrepreneurs and helped them raise $3B+ in equity and debt financing.
We are in the business of helping startups succeed. We are proud of the fact that we have helped startups grow big and that we are there from the incorporation to their eventual exit, whether via IPO or an M&A event.
We've noticed that startups unknowingly tend to neglect their finance team! Today, startups believe in staying lean, which means trimming all the fat in their expenses. Unfortunately, the finance team, being part of "overhead" becomes a casualty of this thinking.
I'll give you an example of how this backfires. I once quizzed the CEO of an early-stage startup about his company's growth. He told me this: "We are doing quite well. The revenue is growing month on month, we have enough money in the bank, and the employees are happy. Life's good." But when I looked deeper, I noticed that at the aggregate level the company's revenue was growing, but month on month, a good chunk of small customers kept canceling the service. The aggregate revenue from these customers was small, which is why their cancelation got lost under revenue increase from a few large customers. Once we pointed out this problem to the CEO, his deeper dive into product issues resulted in not only reduced churn of smaller customers but also wins with some larger ones as well.
Read Our Latest Edition: 10 Most Trusted Overseas Education Consultants in India
The point is: Mentally, it's impossible to track too many pieces of information, and most companies at this stage make these decisions more on gut feeling and less on hard data.
When myStartUpCFO steps inside the company, we look beyond the dollars and cents. We look at the operating metrics that underlie the workings of a company. (Number of customers, revenue per customer/seat, usage of our clients' product by their customers, …) This scrutiny allows us to spot issues before they become a bigger problem. Continuous fine-tuning of a company's operations based
on metrics coming from this financial data engine is hard but necessary for success. We live by this ethos every day.
THE SECRET INGREDIENT(S) BEHIND THE SUCCESS OF THE INC 5000 COMPANY
The distinguishing feature at myStartUpCFO is our unconventional work-from-home culture. This gave us a head-start when the pandemic struck. While most other businesses struggled with figuring out the nuts and bolts of the mechanics of work-from-home, we
adapted to the pandemic-driven changes rather quickly because we'd been largely a work-from-home company since inception.
Our team was already set up for an asynchronous mode of working. Our processes were documented in rigorous SOPs, and everyone knew how to leverage cloud-based collaboration tools like Hangouts, Zoom, Google Suite or even WhatsApp to function effectively. Second, we firmly believe that businesses should serve a larger purpose. This is why we made our social mission of providing flexible job opportunities, especially to women, a core business element, as opposed to an afterthought.
At myStartUpCFO, we want to help close the gender pay gap in the workplace. We are proud of how our company has created opportunities for women and how these working mothers have become our unique brand differentiator.
UPGRADING THE FINANCIAL DEXTERITY OF STARTUPS AND SMES
We specialize in working with young companies. In fact, a lot of our clients start work with us even before they formally form the company! And we're there for them throughout their journey to an exit, may it be a big-bang IPO, a rumbling acquisition, or a quiet dissolution. We take care of data entry, day to day bookkeeping, bank reconciliations, cash management, and creating the financials for management and Board reporting.
However, the real product we are selling to our clients is the time and attention we free up for them to focus on other more important things in their companies. We proudly and gladly take over the "grunt work" side of F&A so the leadership can look at the big picture, without getting overwhelmed by the details. As of date, we have helped our clients raise $3B+ in equity and debt financings.
The modern-age CFO is now also a data scientist. There is so much data available to the CFOs (and everybody else for that matter!), that more decisions can be driven from hard data as opposed to just gut feel. This is where modern technology and relevant dashboards come into play in the modern-age CFO's decision-making process.
IN NUMBERS: THE GROWTH SCALE OF MYSTARTUPCFO
We have hired 100s of employees over the last 8+ years and 1,000+ clients have chosen us to handle their F&A needs.
MILESTONES
What sets myStartUpCFO apart is our strong women-centric focus. I've seen many smart, independent women leave the workforce due to various personal reasons and family commitments. They should not have to compromise on their financial independence and career to be there for their family.
The vision behind myStartUpCFO was to build a completely flexible and virtual company where a working mom can work from wherever she wants. Right now, this seems very viable, but when we started in 2013, we faced a lot of skepticism! I had to warn our clients to expect crying kids and barking dogs in the background when on a call with our team. I was and am proud of this. We feel that a fixed workplace and a rigid timetable is a thing of the past and not practical or realistic for employees working from different locations.
FUTURE PLANS
We are constantly in the process of assessing AI-based tools, more automation and the use of technology to better serve our clients. It not only saves us time but also our clients'.
CORPORATE SOCIAL RESPONSIBILITY
While all of us would like to solve all world problems (hunger, illiteracy, poverty,…) immediately, we also understand that is not possible. We are conscious of our limitations and want to help others working on these issues by doing their books at a discount and keeping them compliant.
TWO WORDS OF WISDOM…ONLY TWO
Be Nice. It drives us, inspires us, and guides our relationship with our clients and employees alike. This same strategy is also why we provide a flexible remote work schedule to our employees: 'Be Nice' is not a workplace only guidance. It is everyday life guidance! It reminds us to be nice to our immediate and extended family as well. It reminds us that all of us can have a satisfying career while raising a family at the same time.
THE LEADER BEHIND THE BRAND
"We are in the business of helping startups succeed. We are proud of the fact that we have helped startups grow big and that we are there from the incorporation to their eventual exit, whether via IPO or an M&A event."
Sandeep brings 30+ years of experience spanning finance, investment analysis, strategic planning and technology, including the last 15 years of leadership experience (as CEO/CFO) in fundraising ($3B+ aggregate raised) and strategic and tactical financial management. He has worked with hundreds of start-ups from pre-revenue to multi-million-dollar revenue. He has helped companies to sell their unfunded dreams to Fortune-10 buyers.
Before founding myStartUpCFO, Sandeep was a co-founder at Gridstone Research, where he played a leadership role in raising multiple rounds of funding and grew the company to ~350 headcount. At Infosys, he led the US team responsible for investor relations and M&A activity. He was an integral part of the team that ran a very successful $1B+ secondary stock offering for Infosys. Sandeep has a Master's in Computer Science from Syracuse University and an MBA in Finance from the Haas School of Business at UC Berkeley.
MyTaxFiler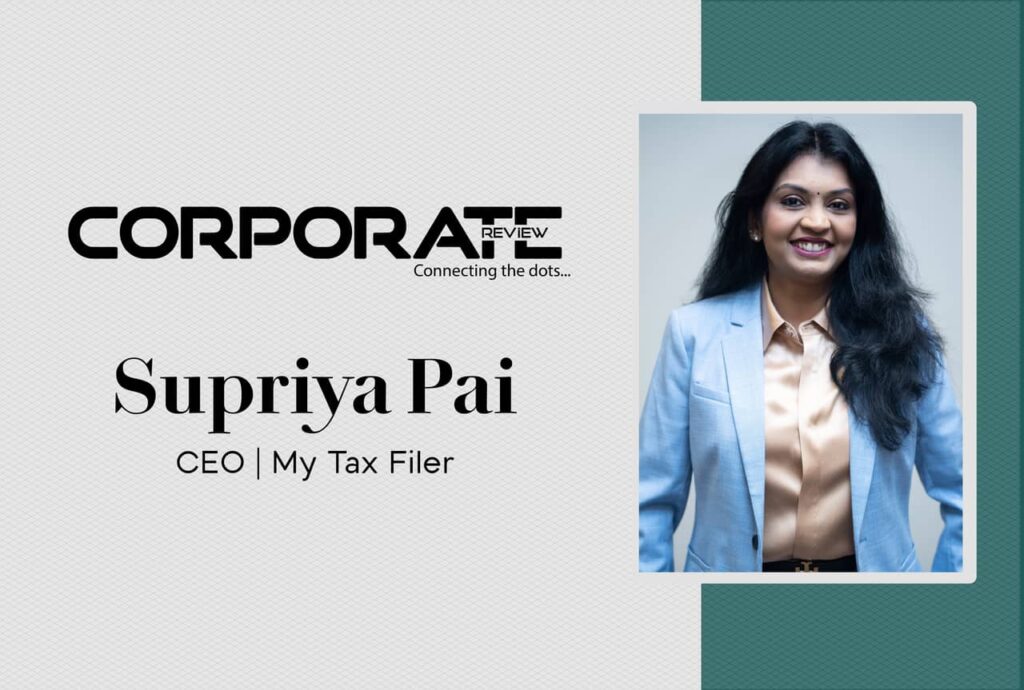 Supriya Pai, CEO of MyTaxFiler brings over 15 years of corporate experience. She holds an MBA in finance and is an Enrolled Agent with the IRS.
"We at MyTaxFiler consider customer service and maintaining good customer relationships as the key to success. We have been in business for 13 years and have increased the client number from zero to 10,000+ over these years. The key to our success is the prompt response, clear guidance, giving time to clients to understand their needs and giving them the best quality services."
Working on her vision to provide end to end tax, bookkeeping and payroll solutions to both individuals and businesses under one roof, Supriya co-founded MyTaxFiler in 2008. A strategic leader, Supriya leaves no stone unturned when it comes operational efficiency and timely updation with the latest regulatory changes and tax codes. Under her leadership, the MyTaxFiler team has set an exceptional performance record in what has become the best-in-class provider in taxation. Establishing its first footprint in Bangalore, India, MyTaxFiler today enjoys a widespread presence over 16 locations including Irving and Plano in Texas, Fremont in California, Edison in New Jersey and Bangalore and Udupi in India with over 100 full-time employees.
Supriya stands committed to providing equal opportunities to women and that's why more than fifty per cent of her workforce is women.
AT GLANCE: MYTAXFILER, LLC
Specialization: US Tax return filing, Bookkeeping, Payroll, Company formation, Tax Planning, Virtual office and Registered Agent Services.
MyTaxFiler is one of the most reputed tax return filing companies in the US with a clientele of 10,000+. Its services include:
Filing tax returns for Individuals, Businesses, Trusts, and Partnerships.
Maintaining the books of accounts and running the payroll for clients
Tax planning for high net-worth clients
Providing support in tax notice representation, FBAR filings, ITIN application preparations and submissions

We talked with Supriya Pai to gain more insights about MyTaxFiler and its journey ahead. Edited Excerpts
DISTINGUISHING FACTORS
We at MyTaxFiler consider customer service and maintaining good customer relationships as the key to success. We have been in business for 13 years and have increased the client number from zero to 10,000+ over these years. The key to our success is the prompt response, clear guidance, giving time to clients to understand their needs and giving them the best quality services. Our employees are major contributors to the success of the organization. Continuous knowledge improvement and training of
employees to take up new things help us meet the changing market needs.
When we started the business, one of our main objectives was to provide quality services to startups and SMEs. Being small companies, our clients could not afford to have in-house teams to handle their accounting, payroll, tax planning etc. We pitched in there and took care of all their accounting/tax filing requirements.
GROWTH BY NUMBERS
Currently we provide services to 10,000+ clients all over the US. As we are expanding our business, we see a bright future.
MILESTONES
Highly satisfied customer base which is ever-growing
Creating many successful entrepreneurs over the years by mentoring our employees and making them start their businesses
Giving work-from-home opportunities to women even before the work-from-home concept started during the COVID period
FUTURE PLANS
To give a further boost to our clientele, increase revenue and improve technology in the services we provide, we are introducing new software for more efficient operations, hiring more experienced employees to provide better service to the clients, bringing in policies to make the company at par with some of the best companies in the industry, running training and development programs for employees and expanding the business to the other states of the US.
CORPORATE SOCIAL RESPONSIBILITY
As a part of our Corporate Social Responsibility, we are giving donations to needy children for their education, giving free on the job training to new graduates which helps them to make a strong foundation for their career.
WORDS OF WISDOM
My favorite quote is, "never give up until you make the last attempt and complete the planned task". Always have a positive attitude towards work and responsibility which will take you to success. Success in the corporate world is teamwork. Try to have employees with positive thinking, motivate them, give them free hand to deliver the things, and interfere only when things are not moving in the planned direction. Always think out of the box, make innovations and try to simplify the work you and your team is doing, give value addition to the clients and keep them happy. A happy and satisfied customer is the best mode of advertisement.
Legacy Wealth Planner (LWP)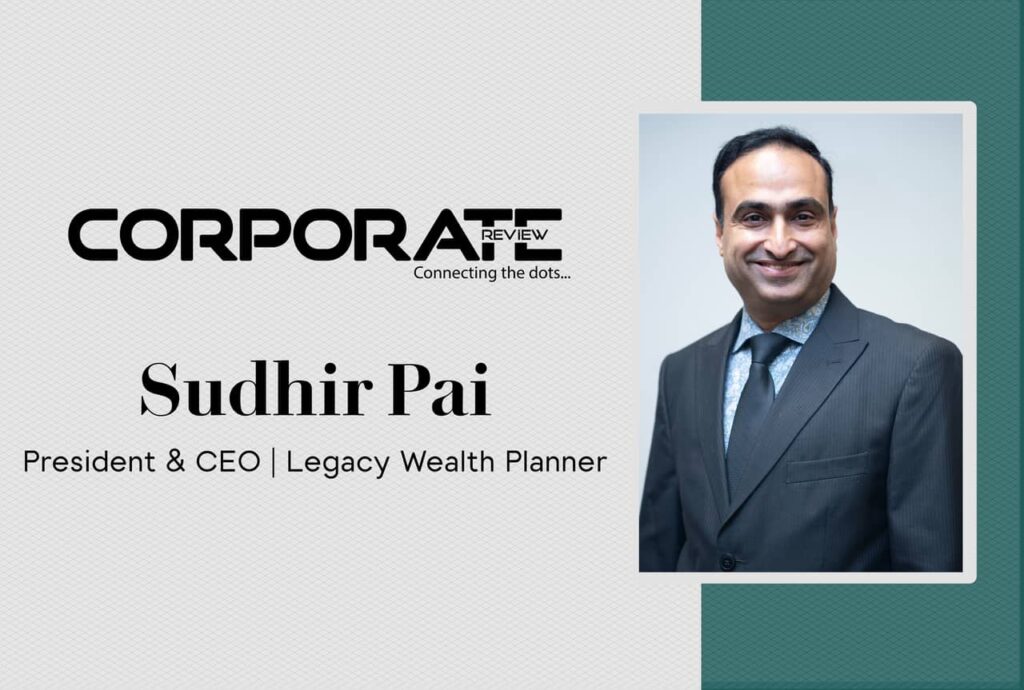 Sudhir Pai is a highly successful entrepreneur drawing on a wealth of experience in Finance, Tax and Accounting to provide leadership in informal business consulting, working closely with business owners and managers to analyze and audit their operations and
devise practical solutions to their needs. A Certified Public Accountant (CPA) and Fellow Chartered Accountant (FCA) from the Institute of Chartered Accountants of India (ICAI), Sudhir established Legacy Wealth Planner, LLC (LWP) in 2019, a boutique financial services firm, and SurelyNow, LLC a firm that specializes in retirement planning & real estate consulting.
Sudhir has extensive experience in the area of personal and business wealth & tax planning and helps both individuals and owners of closely-held and VC funded businesses, focusing particularly on the Asian community in the Greater Dallas area with 10,000+ clients. Sudhir is also an Enrolled Agent admitted to practice before the IRS and Chartered Global & Management Accountant (CGMA) and serves on the Advisory Board of DFW Konkani Samaj and previously member of Corporate Advisory Board of India Association Of North Texas (IANT)
Let's go through Sudhir's success story and insights he shared with us about LWP and future vision. Edited Excerpts
THE BEGINNING OF LEGACY WEALTH PLANNER (LWP)
After a series of successful exits over a decade across Tax and Financial Planning for individuals and businesses, financial facets for start-ups, I became a licensed financial advisor in 2019. This led to the inception of LWP as a natural evolution to help our clients with 360-degree financial & wealth planning through our industry arrangements. LWP is a boutique financial services firm with a special focus on historically low correlated to market alternative investments and retirement planning, specifically in the area of:
Alternative investments,
Algorithmic portfolio generation and customization
Pre-IPO stocks
SERVICES PORTFOLIO
While equity and bond are a big share of the offerings/services we discuss with our clients, LWP also focuses on something that many other financial service firms don't touch on, which is alternative investments like:
Multifamily Apartments
Single Family Homes
Senior Living / Memory care
Student Housing
Undeveloped Land Syndication
Mobile / Manufactured Housing
Mixed-Use Development
Hotel / Hospitality
Self-Storage
Triple Net Lease (NNN) Retail Lease
Opportunistic and Value Add Real Estate
Luxury Condominium Development
Healthcare
Life Sciences Real Estate
Quick Service Restaurants
Wireless Infrastructure
Telecommunications Networks
Energy (Oil & Gas) Funds
Mineral & Royalty Funds
Debt funds
Life Settlement Bonds
Real Estate Bonds
Structured Notes
Venture Capital
Private Credit
Early Stage / Late Stage / Pre-IPO Fund
All these assets classes are also part of tax-advantaged vehicles such as:
Tax Opportunity Zone Funds
1031 Exchange Funds
Through our industry arrangements, LWP helps its clients invest in alternative investments within their retirement accounts, such as 401K, Roth or Traditional IRA. Our clients benefit from the 360-degree tax, wealth and estate planning.
CUTTING THROUGH THE NOISE
As a licensed CPA and Financial Advisor, Mr. Pai provides unparalleled convenience to our clients to strive to achieve their financial goals with 100% transparent assistance. Having worked with clients hoping to put their children through college, retire when they desire, and plan for everything in between; we also serve a wide range of clients who are passionate about cryptocurrencies, NFTs, and real estate by partnering with businesses with high credibility and track record of results.
Our attentiveness, quick turnaround, and availability during those key decision-making moments of our clients have been the secret ingredient of our ongoing success.
It's what we don't get paid for which makes us different from the rest of the investment industry.
GROWTH BY NUMBERS
In a short period of two years since the inception of LWP, we have raised over $150 million which we believe has put us on the path to strive for our goal of $1 billion by 2025 while helping ~700 households & family offices. We feel business owners have benefited from our superior tax-optimized portfolio management custom-built for each client. We have sought to fuel their growth in wealth through:
Retirement plans for businesses and business owners
Non-qualified deferred compensation plans
ESOP for senior executives
Charitable giving structures for ultra-high-worth net individuals
Bank-funded life insurance plans for estate tax and retirement planning
Cash management & treasury solutions for businesses
FUTURE PLANS
Although we are busy helping clients strive to achieve their long-term financial goals, day-to-day planning for the future of the firm has also been an important way to ensure our long-term success.
We've launched a Land Syndication fund, buying properties in multiple states within the US and also considering another fund, for multiple asset classes, such as multifamily, student housing, hospitality & storage. We are also eyeing adding late stage & early stage companies to our client portfolio.
GENERAL DISCLOSURE
Not an offer to buy, nor a solicitation to sell securities. All investing involves risk of loss of some or all principal invested. Past performance is not indicative of future results. Speak to your finance and/or tax professional prior to investing. Any information provided is for informational purposes only.
Securities and advisory services offered through Emerson Equity LLC Member: FINRA/SIPC and a registered investment adviser. Only available in states where Emerson Equity LLC is registered or operating pursuant to exemption from registration. Emerson Equity LLC is
not affiliated with any other entities identified in this communication.