With the emergence of the COVID-19 pandemic, overseas education and consulting services came to a stand-still. Consequently, thousands of students stalled their higher education plans temporarily. Despite the odds, the pandemic also served as a blessing in disguise, as it transited innovation into an industry that did not have any presence of digital characteristics.
Today, while the overseas education players are shifting towards digitization, eduVelocity has already established its supremacy by disrupting the conventional flow of the industry. The brainchild of an intellectual leader, Vinu Warrier, eduVelocity Global Counsels LLP was established in 2015 with a vision to mentor students as their study abroad partner and build their careers through its well
experienced and dedicated expertise.
Starting with a team of four members and a brick-and-mortar presence in Chandigarh in 2015, eduVelocity now has 40 team members and serves clients across 9 different countries through its two offices in Delhi and Chandigarh. Talking in numbers, to date, eduVelocity has been offered admissions in more than 200 different programs, both graduate and undergraduate, from more than 500 esteemed universities situated across 19 different countries:…US, Canada, UK, Australia, New Zealand, Japan, Singapore, Hong Kong, Italy, Spain, Denmark, Netherlands, France, Switzerland, Germany, Finland, Czech Republic, Ireland, and Sweden…with universities ranging from the Ivy's, to the "Public Ivy's", to small and large, public and private, engineering, medical, business, and liberal arts institutions.
The tally of students enrolled with EV till 2025 is sizable, ensuring substantial future entry to top best-fit universities for "EV-ians". The average outgoing class size of eduVelocity is more than 100 students; and about 400 to 500 aspiring students are being mentored, counseled and guided by their assigned EV team members to achieve a place in their dream universities.
Addressing the challenges
eduVelocity is working on the objective of providing a counseling model for those who are aspiring to pursue higher education overseas. This is what eduVelocity has to say about themselves:
"We are educators by choice and are passionately professional about our work."
In the students' overseas education journey, EV helps with planning, choice of program, selection of universities to apply and preparing for the application process. EV handholds them throughout the journey – from enrolment through pre-departure- and provide mentoring to answer all their questions and address their concerns.
"We ensure that all the efforts are directed towards attaining admission to the students' best-fit university at the end of this journey."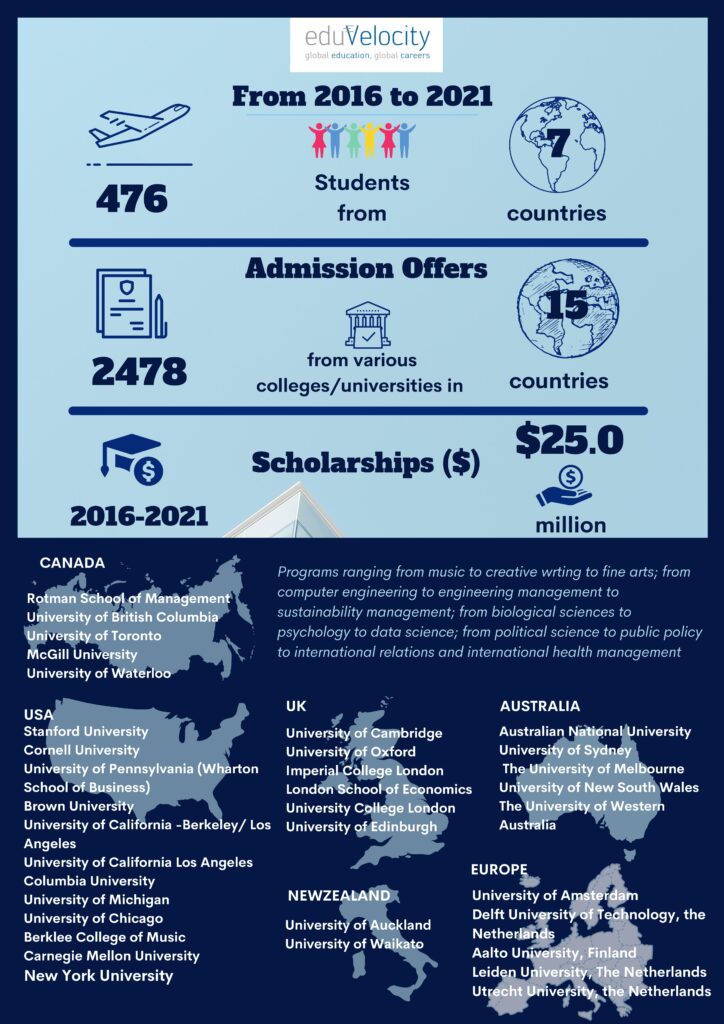 The Procedure
CREATING THE BLUEPRINT
The counselors here assist students in exploring their interests, pinpointing/identifying their strengths and finding the activities that would benefit them the most – from honing their personalities to finding competitions/events to complement their profiles.
Read Our Latest Edition: 10 Most Trusted Overseas Education Consultants in India
STEP 1 – ENGAGEMENT & ASSISTANCE
GUIDANCE & LONG-TERM ENGAGEMENT FOR SCHOOL STUDENTS
eduVelocity helps school/college students identify their interests through psychometric testing/aptitude evaluation, understands their objectives and desired destination countries, and considers their financial estimate/affordability to match them with the suited university.
ASSISTANCE FOR COLLEGE STUDENTS IN SECOND/THIRD OR FINAL YEAR
The team leads students through the process of selecting the best-fit program in top-ranked universities by writing their Statements of Purpose/essays, assisting in interview preparation, finding the right internships, publishing research papers, creating strong portfolios as well as in filling out applications in the best possible manner.
CAREER ENHANCEMENT SUPPORT FOR WORKING PROFESSIONALS
eduVelocity focuses on assisting working professionals for their best-fit program and coordinating with them amidst their busy schedule to take them through the application process by shortlisting the right programs and universities, ensuring a competitive profile, suggesting online courses, reviewing their essays, and preparing them for video essays/interviews.
STEP 2- HAND HOLDING
The counsellors guide the students in the various stages of their journey such as profile building, which involves activities like participation in competitions and attending group sessions when required; help is rendered to students, encouraging them to produce excellent essays in time. Progress is regularly monitored and parents updated about the status throughout the admissions process at EV.
STEP 3- PERSONALIZED PROGRAM REVIEW
A program review session is arranged with the students and their parents and as per their requirements, choices and level of competitiveness, a list of best-fit programs and universities is generated with their consent.
STEP 4- OFFER FINALISATION & FAREWELL
To help the enrolled students make their final decisions, the counselors come together again to consider the pros and cons of each offer and make the final choice in an acceptance session. Before they take off, there is also a pre-departure session to run them through all that they will require to board their flights successfully, travel without hitches, and reach their destinations safely.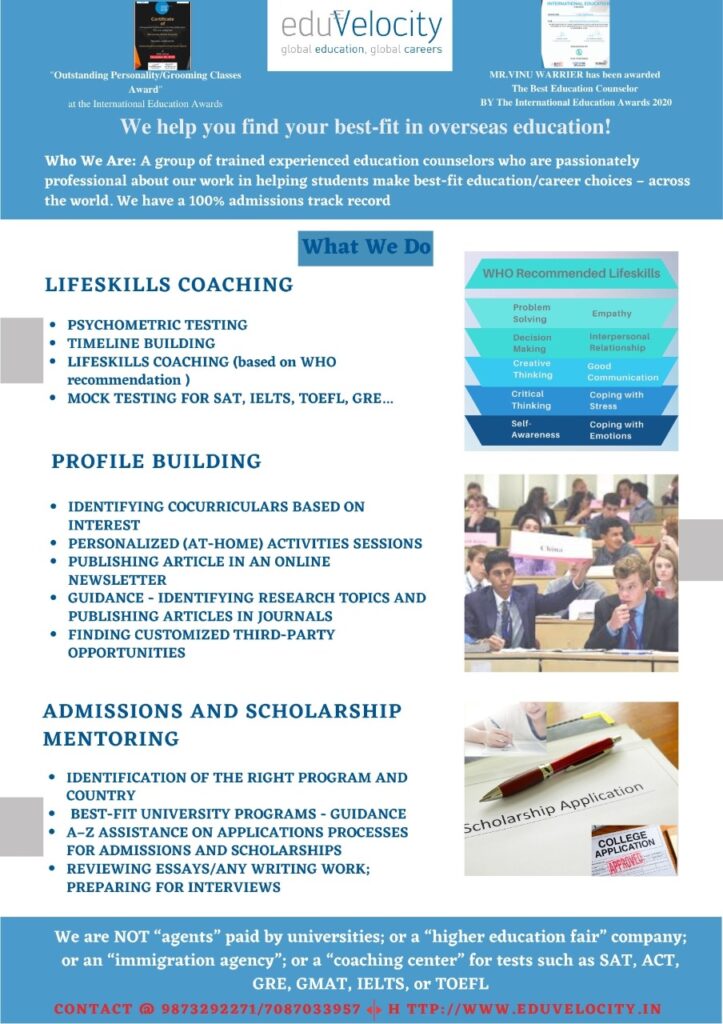 Establishing Benchmarks
Awarded the Outstanding Personality/Grooming Classes@ International Education Summit and Awards 2020
Awarded the "Best Education Counselor of the Year" – Mr. Vinu Warrier @International Education Awards 2020
eduVelocity' class of 2021, comprising 106 students received more than 574 admissions offers with a combined scholarship amount (largely merit-based) of slightly over USD 5.4 Million (approximately 40 crores). EV students have been admitted to programs ranging from the STEM fields, to the social sciences and humanities, to film-making, music, the fine arts, other performing arts, as well as such uncommon, cutting-edge fields like interaction design, music business, business design, fashion marketing, the culinary arts and hospitality management, and sports administration
Future Plans
Within the rapidly growing education sector, the singular growth objective for EV, above all else, is to become a credible brand of trust and quality. We believe in offering an array of Higher Education (HE)-related but diversified future products, services, and personalized packages, both domestic and international, aimed at students and institutions, which we believe helps us achieve this brand image.
The team is planning to raise funding for investing more in technology, increasing the client servicing capacity by expanding the team and reaching out to more institutions in different geographies. The company is starting its operations in the UAE and the GCC countries as they have a significant client base and institutional connections in Dubai. Furthermore, they are also in discussion with individuals and organizations in Nepal, the US, Canada, and Sri Lanka for the outreach and marketing initiatives for client acquisitions.
The man behind the Brand
Vinu Warrier, the founder of eduVelocity has spent much of his adult life in and around institutions of higher education, and has lived and worked across varied locations ranging from Montreal, Canada; to the U.S. Midwest; to Chennai, Hyderabad, New Delhi, and Chandigarh in India.
Formerly, as the Director of Creative Strategy at Stamats, Vinu helped shape the creative direction for the leading U.S. consulting firm that counts thousands of higher education institutions across North America. Vinu's brand development, admissions and advancement work with more than 100 colleges and universities across North America, attracted regional and national attention in the United States, earning him numerous ADDY and Educational Accreditations, and awards. Before Stamats, Vinu was associated with McCann Erickson, India, and Matrox Graphics Inc., Canada, as well.
At eduVelocity, Vinu leads the counselors while drawing on more than 25 years of unique experience as a higher education consultant. For his outstanding work and mentorship, Vinu was awarded the Best Education Counselor at the International Education Awards (virtual) organised by KitesKraft Productions (@iesa 2020).