Remember the craving that you get post every meal? Yes, we are coming to that! There is nothing better than treating yourself with homemade treats-especially if they have chocolates.
Unfortunately, when it comes to eating healthy, chocolate doesn't count in. But what if we tell you that you can have them without consuming high calories?
Yes, you heard it right. These healthier chocolaty recipes are good enough to sweeten things up without overburdening you with calories. Take a look.
Chocolaty-Coconutty Almond Bites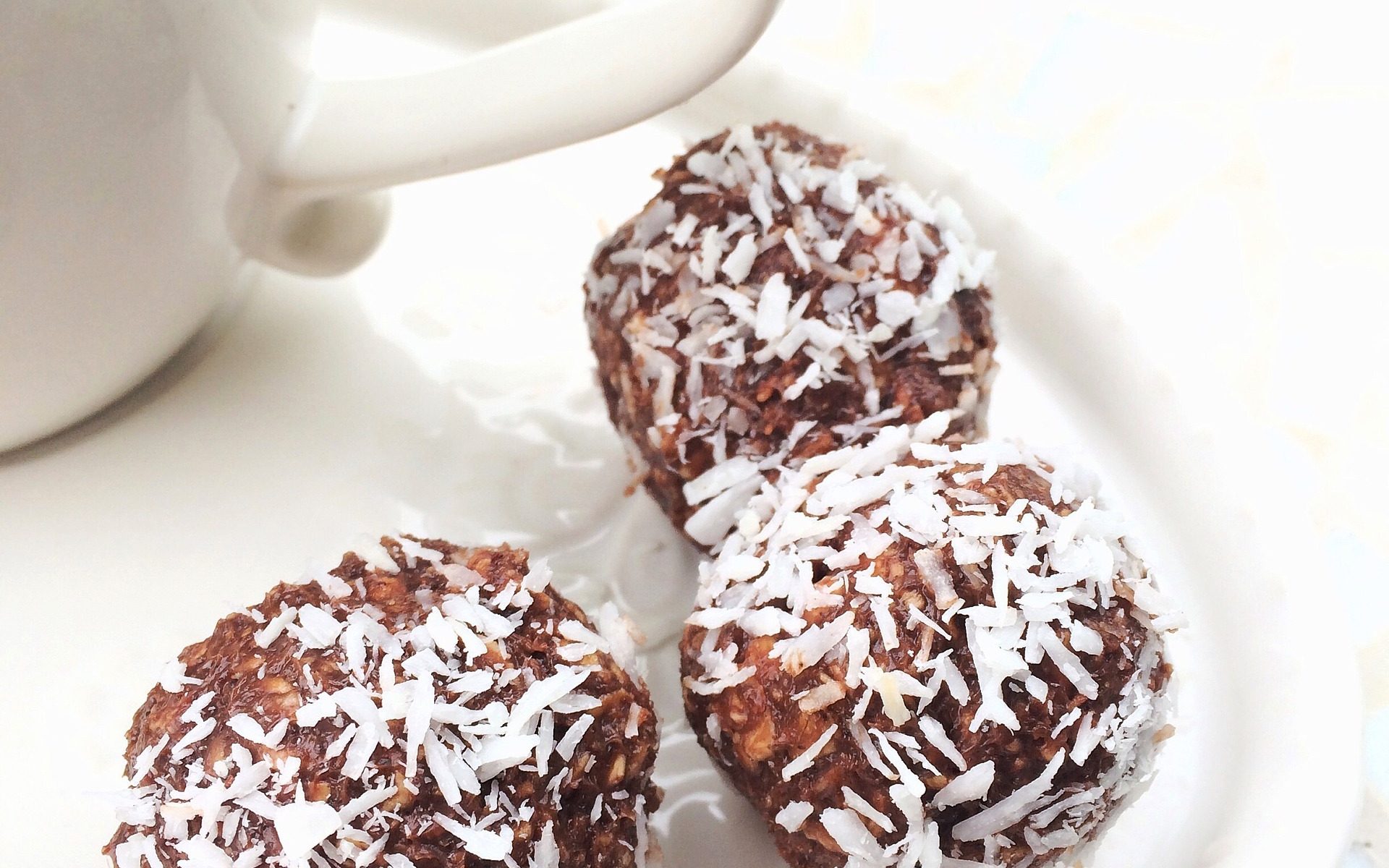 Ingredients
2 1/2 cups shredded coconut
1 teaspoon vanilla extract
4 tablespoon pure maple syrup
12 almonds
3 tablespoons coconut oil, melted
dark chocolate
Instructions
Blend coconut, vanilla and maple syrup until the paste turns moist.
Roll the mixture into balls or any other shape.
Place on parchment paper or baking paper and add one almond to the top of each ball.
Let them sit in the refrigerator for good 20-30 minutes.
Meanwhile, melt chocolate using the double-boiler method and combine it with coconut oil.
Spoon chocolate mixture over each ball.
Refrigerate for the next 10 minutes to allow chocolate to harden.
They are ready to be gulped!
Chocolate Pudding – No Butter, No Sugar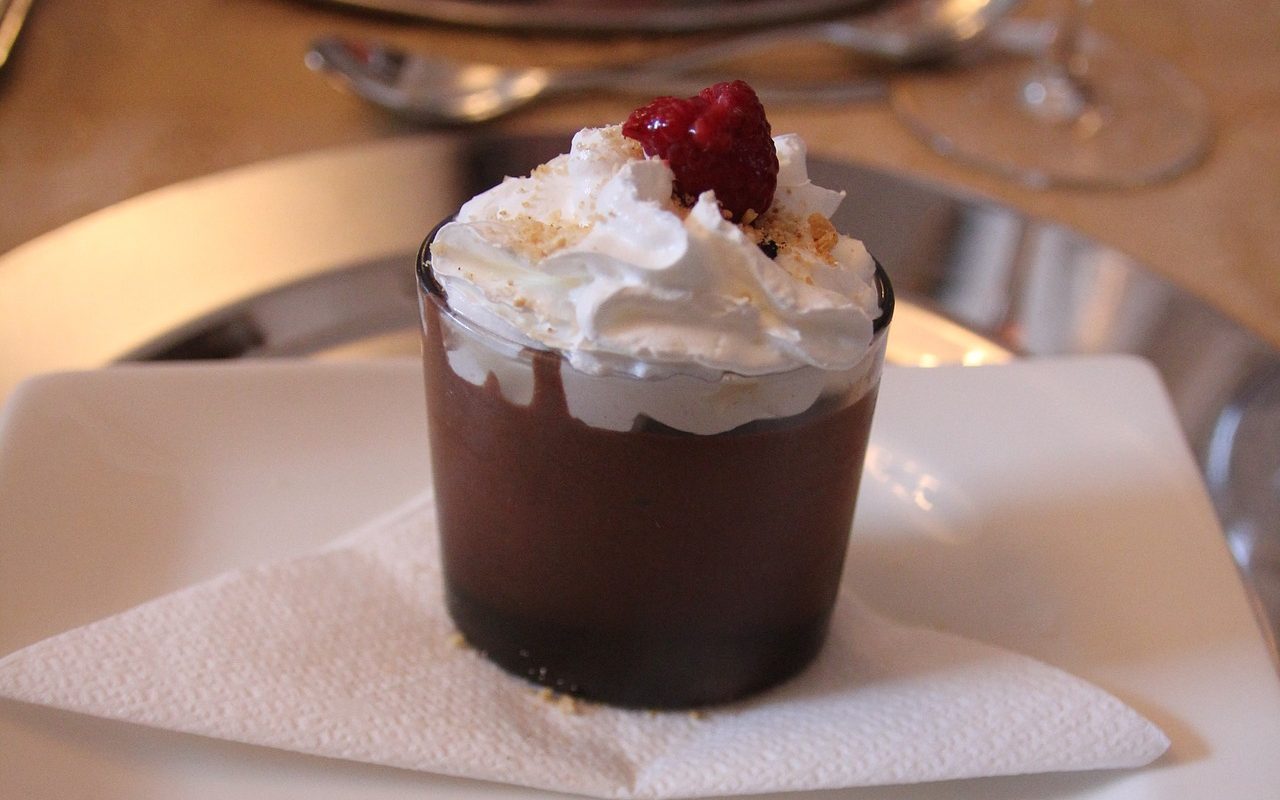 Ingredients
5 dates blend into a paste
3 tbsp cocoa powder
1 tbsp cornstarch (alternate- arrowroot powder)
80 gm bittersweet dark chocolate, chopped / dark chocolate chips
1 cup almond milk
2 tsp vanilla extract
pinch of sea salt
Instructions
In a saucepan, add cocoa powder, corn starch and sea salt and stir together on medium-low heat.
Pour in the date paste and almond milk slowly while whisking together until a smooth paste is formed.
Simmer the paste on a medium-low heat
Once the paste starts to simmer, add the chopped chocolate/ chocolate chips and whisk until melted and the pudding turns thick and richly-smooth.
Pour the pudding into equal servings and garnish it with finely chopped chocolates.
It can be served warm or hot.
Chocolate Peanut Butter Smoothie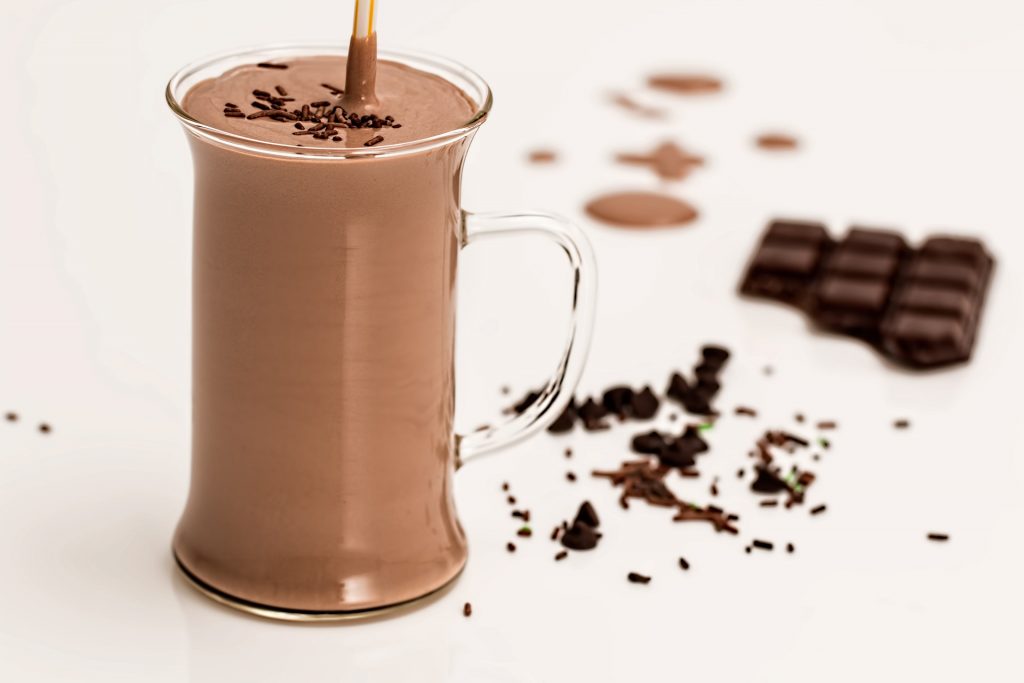 Ingredients
1 small frozen banana
1 tsp organic peanut butter (or another sugar-free nut butter)
150 ml plant-based milk (almond milk, oat milk or rice milk)
20 g vanilla protein powder (one scoop)
1 tbsp cacao powder
1 tsp ground cinnamon
4 ice cubes
Instructions
Add all of the ingredients to a blender and blend until creamy and smooth, You can add a tiny amount of water to ease blending.
That's all folks!
Chocolate Hazelnut Fondue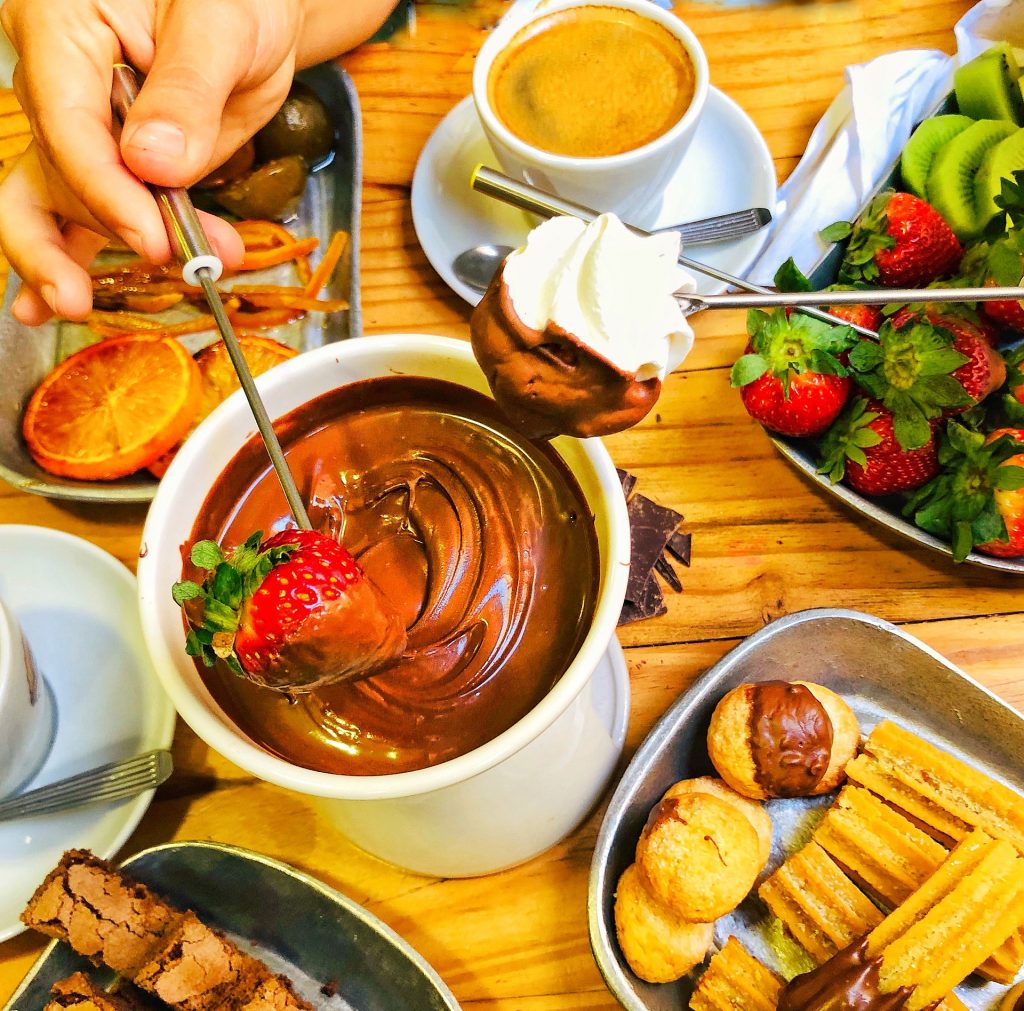 Ingredients
3/4 cup fat-free evaporated skim milk
1/2 cup cocoa powder
1/2 cup hazelnut chocolate spread
Instructions
In a small saucepan, whisk evaporated milk and cocoa until smooth; heat over medium just until steaming. Whisk in hazelnut chocolate spread until smooth and warmed through.
Serve with assorted fruit and cookies.
Best paired with
Strawberries
Banana slices
Kiwi fruit slices
Pear slices
blueberries and raspberries
small cookies
Eggless Molten Chocolate cake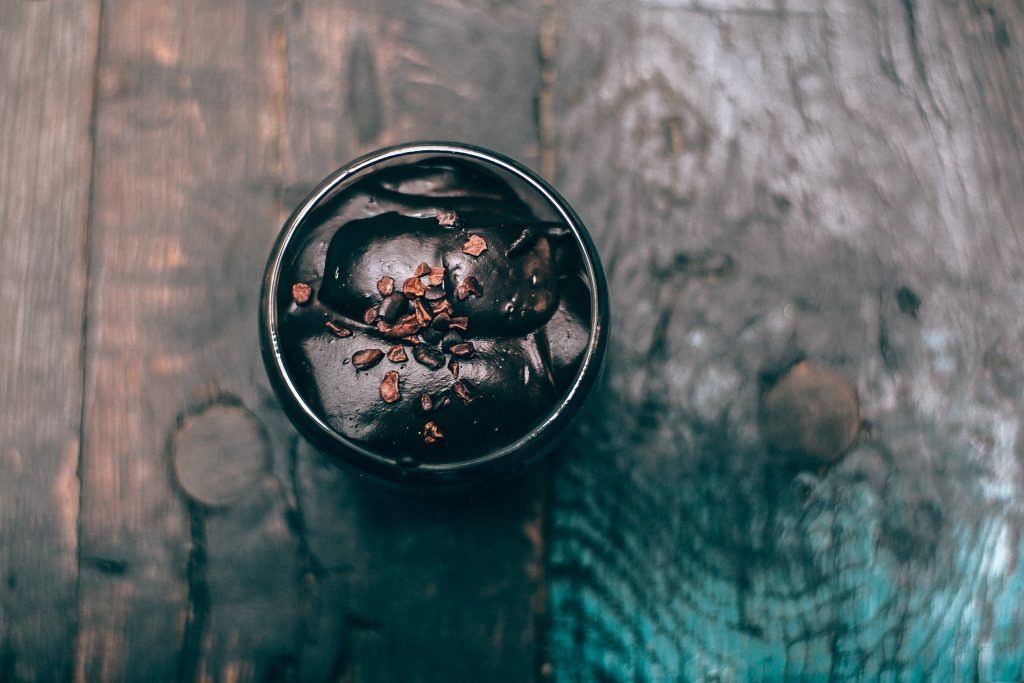 Ingredients
¼ cup butter
¼ cup of chocolate chips
3 tbsp cocoa powder
4 tbsp all-purpose flour
¼ cup powdered mixed nuts (almonds, cashews, pistachios and walnuts)
¼ cup powdered sugar
3 tbsp luke-warm milk (make sure it's neither too hot nor too cold)
Few chunks of dark chocolate
Instructions
Pre-heat the oven to 180C. Prepare the cake tin (Grease and flour)
Combine butter and chocolate chips by melting and blending together in a bowl
Put all the dry ingredients (all-purpose flour, cocoa powder, finely mixed nuts and sugar) into the same bowl.
Add the milk and mix everything together to make the batter.
Pour the batter into the cake tin.
Submerge the dark chocolate chunks down in the batter with the help of a spoon or fork's top.
Bake the lava cakes for 7-8 minutes until the edges are set and the centre has a slight wobble.
Warning: over baking will take away the lava effect.
Let it cool down for a minute, once removed and invert the lava cake onto a serving plate.
You can also pair it with ice cream.
POWER CHOCOLATE BALLS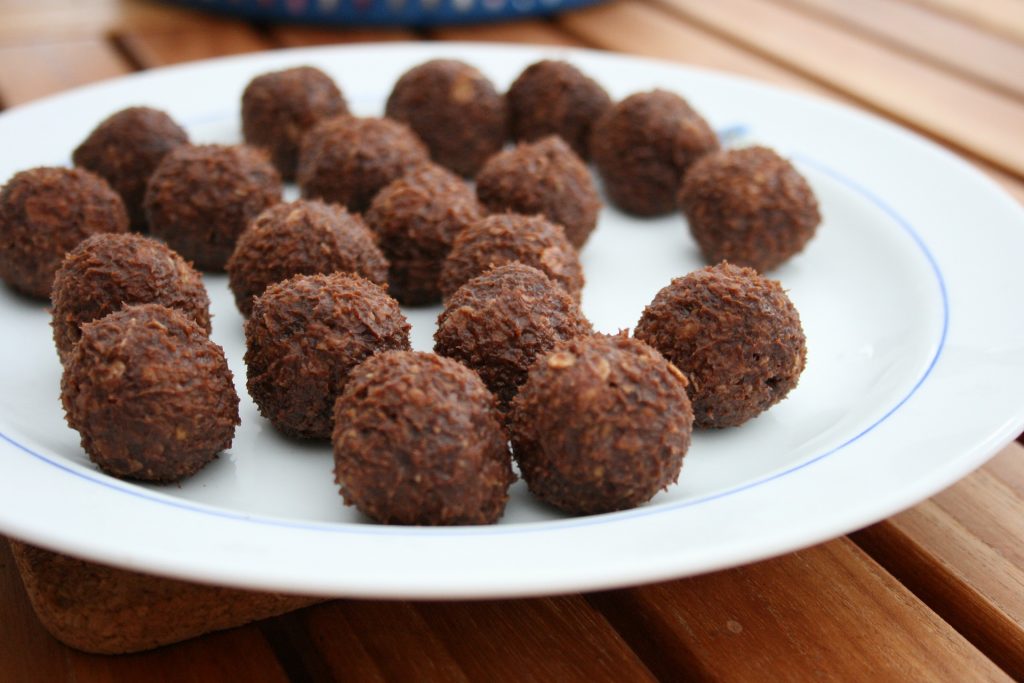 Ingredients
2 cups pitted dates
¼ cup almonds
¼ cup cashews
¼ cup walnuts
¼ cup pistachios
2 tbsp cocoa powder
1 tbsp Clarified Butter (Ghee)
1 tbsp milk or almond milk
½ tsp vanilla extract
Instructions
Blend together all the ingredients in a blender/food processor until the mixture starts to bind together.
Taking out one tbsp of this mixture, create balls and place them on the parchment paper/butter paper.
Refrigerate them until they harden up.
Good to go!
Further Reading: