The loss-making national carrier, Air India flew back home after sixty-eight years (68) years.
Indian multinational conglomerate's principal investment holding company and promoter of Tata companies, Tata Sons outbid a consortium led by SpiceJet's Chairman and Managing Director, Ajay Singh.
The reserve price set by the government for the Air India bid was Rs 12,906 crore. The complete handover of Air India to the Tata Sons will be around December 2021.
Sold to the government in 1953, Air India has seen colossal losses since its merger with domestic operator Indian Airlines in 2007 and has been in massive debt of Rs 60,074 crore as of March 31, 2019, as per the Air India Expression of Interest floated by the DIPAM in January last year, Air India has a total debt of Rs 60,074 crore as of March 31, 2019.
The buyer has to absorb Rs 23,286.5 crore. The rest would be transferred to Air India Assets Holding Ltd (AIAHL), a special purpose vehicle.
Department of Investment and Public Asset Management (DIPAM), Secretary, Tuhin Kanta Pandey also commented on the current debt figures of the national carrier. According to him, As of March 2021, Air India has a total debt of Rs 46,231 crore, increasing to Rs 65,562 crore by the end of August 2021.
A 'WORTHY' BID FOR THE TATAS
Ownership of Air India, Indian Airlines, and the Maharajah, where Air India has a fleet of 117 wide-body and narrow-body aircraft and AIXL has a fleet of 24 narrow-body aircraft.
Post-acquisition, the Tatas will own a 100% stake in Air India and in its subsidiary Air India Express (a low-cost carrier airline that focusses on short-haul international operations especially in the Middle East market) as well and 50% in the joint venture Air India SATS (airport services on ground and cargo handling).
The employee strength of Air India & AIXL, both permanent and contractual stands as 13, 500.
Meanwhile, Tata Sons will have to retain all current employees of Air India for one year, the government said. From the second year, Air India employees will have to be offered a VRS. Further, gratuity benefits and PF benefits will be applicable.
Also, Tata Sons have to maintain at least a 51% equity stake in Air India for one year, according to the government. Only after the completion of one year, Tatas can sell any stake in the airline.
FOR THE GOVERNMENT
The government of India will get Rs 2,700 crore in cash from the deal and the remaining Rs 15,300 will be debt taken over by the Tata Sons.
DIPAM secretary also announced that Tata Sons will take over Rs 15,000 crore of the total debt currently on Air India's books.
Post this Air India will have Rs 46,262 crore of debt, which will be taken over by Air India Assets Holding Limited (AIAHL).
Air India was set up as Tata Airlines by Jehangir Ratanji Dadabhoy Tata (JRD Tata) in 1932 with an initial investment of Rs 2 Lakh crore.
He was the first licensed pilot in India. The fleet included the first planes- two second-hand de Havilland Puss Moths.
Later, the company was nationalized by the government in 1953 split into two – a domestic airline and an international carrier with JRD Tata chairing its chairman till 1977.
Air India was also the first Asian airline to introduce jet aircraft and started flying to New York in 1960.
Commenting on the development, N. Chandrasekaran, Chairman, Tata Sons Pvt Ltd said,
RATAN TATA WELCOMES AIR INDIA BACK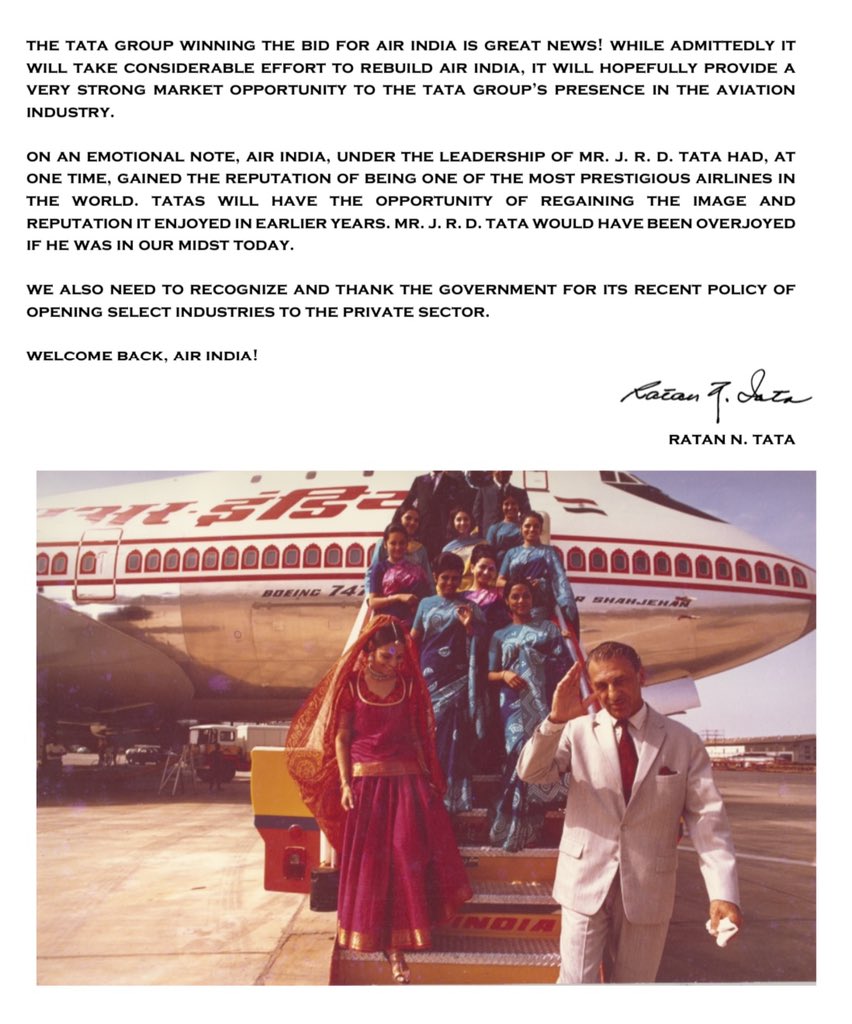 Also Read: Interesting Facts about 10 leading Indian Companies' Names