When the pseudonymous developer named Satoshi Nakamoto invented the world's first cryptocurrency called Bitcoin in 2009, little did he know that he has established the groundwork of other digital currencies.
The year 2021 seems to stock a special mention as the year of cryptocurrencies.
As we are moving ahead, we can witness the growing acceptance of cryptocurrencies on both fronts- as an investment and as a medium of exchange, to safely transfer money digitally from one currency owner to another, without the use of traditional banking and other financial institutions. 
Today, we have more than 5,000 cryptocurrencies in the market, working on the blockchain technology.
Bitcoin is at all-time high value as a lot of factors spurring the current environment- from debut of public trading platforms and special endorsements from leading entrepreneurs like Tesla CEO Elon Musk (for Dogecoin). 
And it's just the beginning. Research has found that cryptocurrencies are three times more popular, as a long-term investment vehicle, among millennials as compared to any other generation.
Millennials are driving the cryptocurrency growth track; terming it as one of the best options to invest due to higher returns.  
While the world is ready to favour crypto investment, let's see the top-5 best performing cryptocurrencies of 2021, so far.
1. Dogecoin 
Ticker: DOGE
YTD Performance: 8,039%
Market value: $45 billion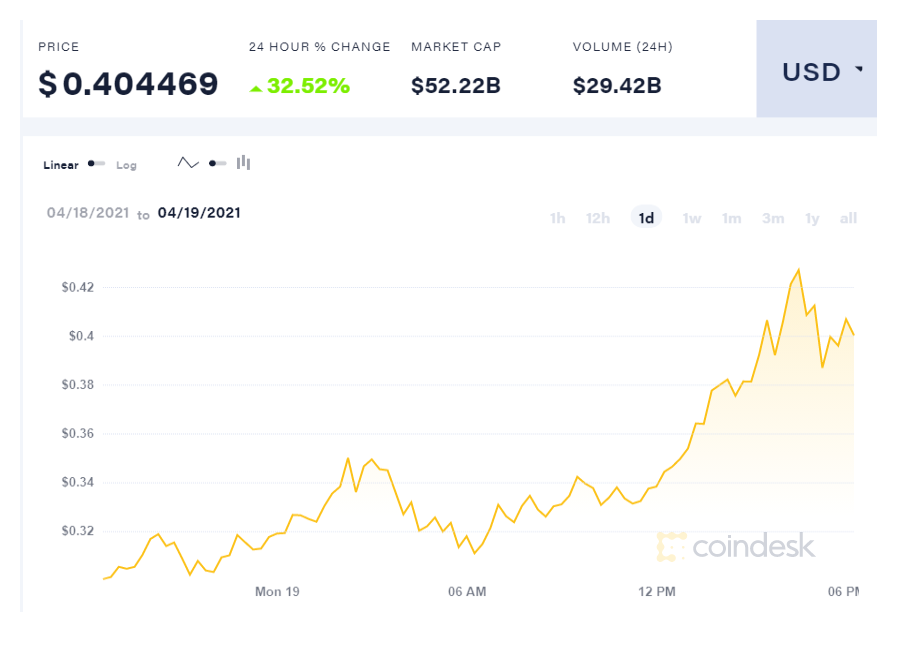 Dogecoin emerged in 2013 as a joke. It was created by Jackson Palmer and Billy Markus to satirize the growth of altcoins by making the doge internet meme into a cryptocurrency.
While it was birthed as a joke, it actually led to some practicality as its large supply and low price facilitated efficient micro-tipping content on social media.
It is a derivative of Luckycoin which forked from Litecoin and uses a Scrypt algorithm.
Dogecoin has 1-minute block intervals making it faster than other blockchains.
There is no cap to the supply of coins and thus the coin can inflate infinitely. 
2. BitTorrent 
Ticker: BTT
YTD Performance: 2,500%
Market value: $5 billion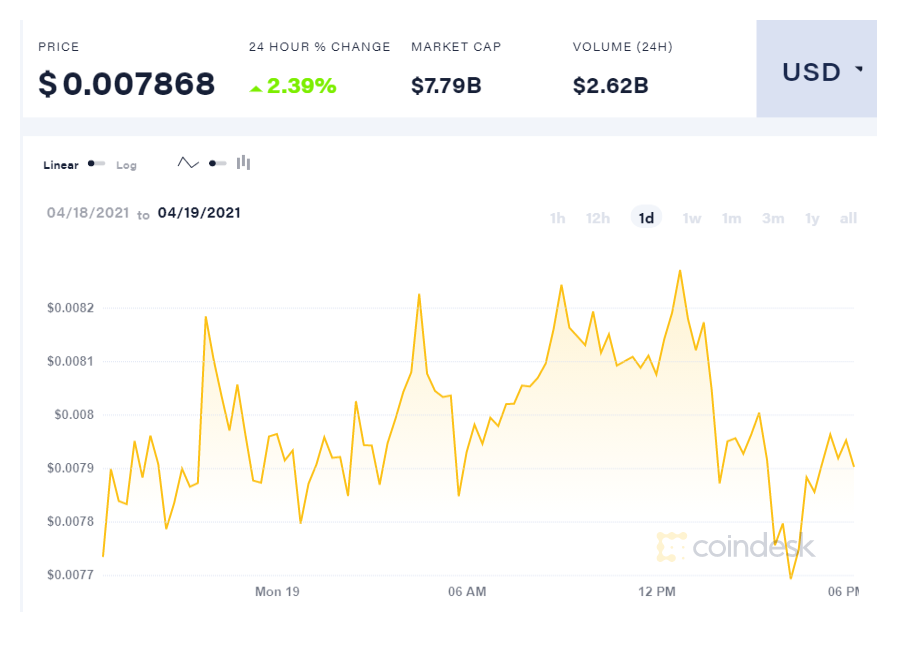 BitTorrent is a popular peer-to-peer (P2P) File sharing and torrent platform which has become increasingly decentralized in recent years. 
Originally released in July 2001, BitTorrent was purchased by blockchain platform TRON in July 2018.
Since its acquisition, BitTorrent has added various new tools, with a dedicated native cryptocurrency token, BTT, released in February 2019.
BTT was launched on TRON's own blockchain, using its TRC-10 standard. 
According to its official literature, BitTorrent is currently the "largest decentralized P2P communications protocol" in the world. 
The original BitTorrent is the brainchild of Bram Cohen, a developer and entrepreneur who himself has since become well known in the cryptocurrency arena.
The platform has seen multiple legal battles, with Cohen maintaining that it does not break copyright laws in allowing users to share files such as music and movies among themselves. 
TRON is also behind the addition of cryptocurrency to BitTorrent, as the BTT token was released on TRON's blockchain.
The move formed part of TRON's efforts to add further decentralized features to the platform. 
3. Terra 
Ticker: LUNA
YTD Performance: 2,348%
Market value: $6 billion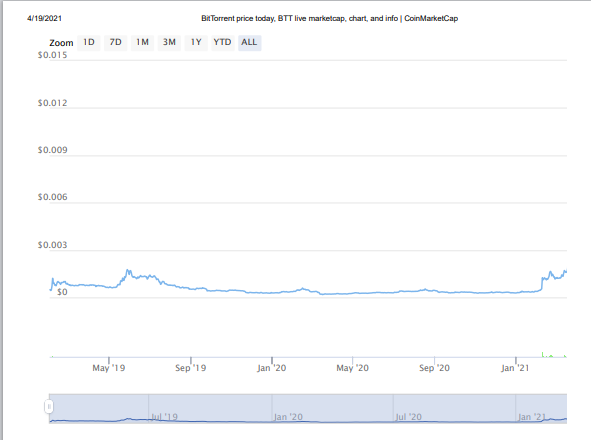 Terra is a blockchain protocol that uses fiat-pegged stablecoins to power price-stable global payments systems.
According to its white paper, Terra combines the price stability and wide adoption of fiat currencies with the censorship-resistance of Bitcoin (BTC) and offers fast and affordable settlements. 
Terra was founded in January 2018 by Daniel Shin and Do Kwon. Development on Terra began in January 2018, and its mainnet officially launched in April 2019.
As of September 2020, it offers stablecoins pegged to the U.S. dollar, South Korean won, Mongolian tugrik and the International Monetary Fund's Special Drawing Rights basket of currencies — and it intends to roll out additional options. 
Terra's native token, LUNA, is used to stabilize the price of the protocol's stablecoins.
LUNA holders are also able to submit and vote on governance proposals. 
4. Solana 
Ticker: SOL
YTD Performance: 1,602%
Market value: $7 billion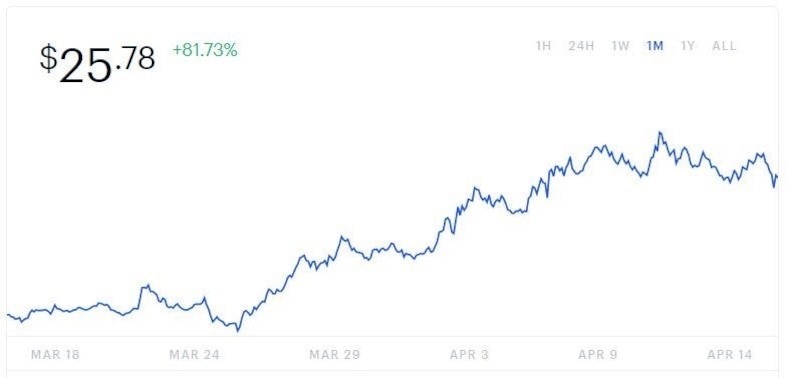 The Solana protocol is intended to serve both small-time users and enterprise customers alike.
One of Solana's main promises to customers is that they will not be surprised by increased fees and taxes.
The protocol is designed in such a way as to have low transaction costs while still guaranteeing scalability and fast processing. 
Combined with the longstanding professional expertise creators Anatoly Yakovenko and Greg Fitzgerald bring to the project, Solana is ranked number 42 in the CoinMarketCap ranking as of February 2021.
5. Binance Coin 
Ticker: BNB
YTD Performance: 1,260%
Market value: $79 billion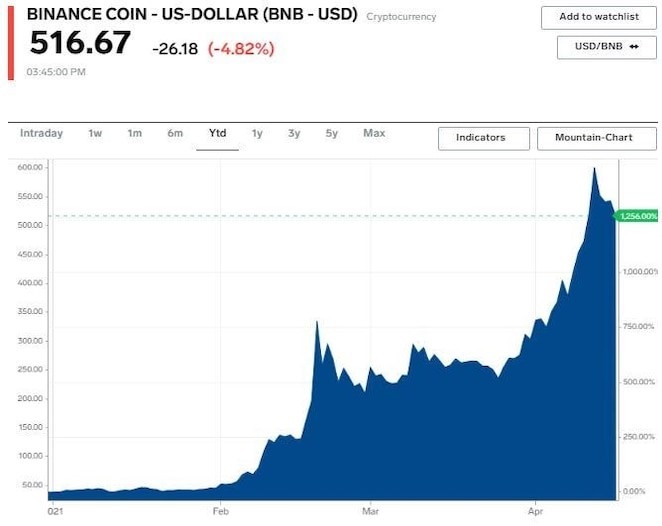 BNB was launched through an initial coin offering in 2017, 11 days before the Binance cryptocurrency exchange went online.
It was originally issued as an ERC-20 token running on the Ethereum network, with a total supply capped at 200 million coins, and 100 million BNBs offered in the ICO.
However, the ERC-20 BNB coins were swapped with BEP2 BNB on a 1:1 ratio in April 2019 with the launch of the Binance Chain mainnet, and are now no longer hosted on Ethereum. 
BNB can be used as a payment method, a utility token to pay for fees on the Binance exchange and for participation in token sales on the Binance launchpad.
BNB also powers the Binance DEX (decentralized exchange). 
Can You Mine BNB? 
You cannot mine BNB as you would a proof-of-work cryptocurrency, since the Binance Blockchain uses the Byzantine Fault Tolerance (BFT) consensus mechanism.
Instead, there are validators that earn from securing the network by validating blocks. 
(Source: CoinMarketCap)