The degree of competition in the market is continuously increasing as India's digital ecosystem grows and expands, and more entrepreneurs are now prepared to try their hand at ventures that are off the usual path.
The development of technology and all of its additional advantages has opened up a world of possibilities and chances for a number of industries, creating the foundation for the advancement of the modern world. The internet payments sector is one such industry.
The time when sending money was a complicated and time-consuming operation is long gone.
Due to the vast number of platforms striving to establish benefits for quick and secure online money transfers, the process may now be completed with a single swipe of the finger. One of the first names that comes to mind when we consider such platforms is Razorpay, a payment gateway platform that provides all users in India with a safe and secure payment system. Because it recently became a unicorn among Indian companies this year, the platform has recently been climbing the charts to establish itself as a leading name in this industry.
Razorpay's platform gives consumers access to a variety of payment methods, including wallets, debit cards, credit cards, and net banking.
About Razorpay
An online payment solution platform in India called Razorpay provides businesses with a quick, secure, convenient, and affordable way to receive and distribute payments digitally. The platform provides access to a number of online payment methods for these commercial organizations, including credit and debit cards, net banking, UPI, and a number of popular wallets in India, including JioMoney, Mobikwik, Airtel Money, FreeCharge, Ola Money, and PayZapp. The platform works with both web and mobile applications and offers users a thorough dashboard for managing payments.
Razorpay Route, Razorpay Smart Collect, Razorpay Subscriptions, and Razorpay Invoices were the four solutions that the platform introduced in 2017. These products make an effort to manage operations including cash flows, money disbursement, automating NEFT and bank wires, as well as the collecting of recurring payments.
Razorpay Capital, a further subsidiary of the platform, is a lending platform that supports businesses with on-the-spot loans to help them address their cash flow difficulties.
The platform has also added two new features to the services it provides, namely "Partial Payments" and "Batch Uploads." The Partial Payments feature enables end-users to make payments in segments against a specific order ID rather than making the entire payment at once, and the Batch Uploads feature enables business entities to produce and process links in batches rather than setting up separate links by uploading different files that accommodate the collection of links.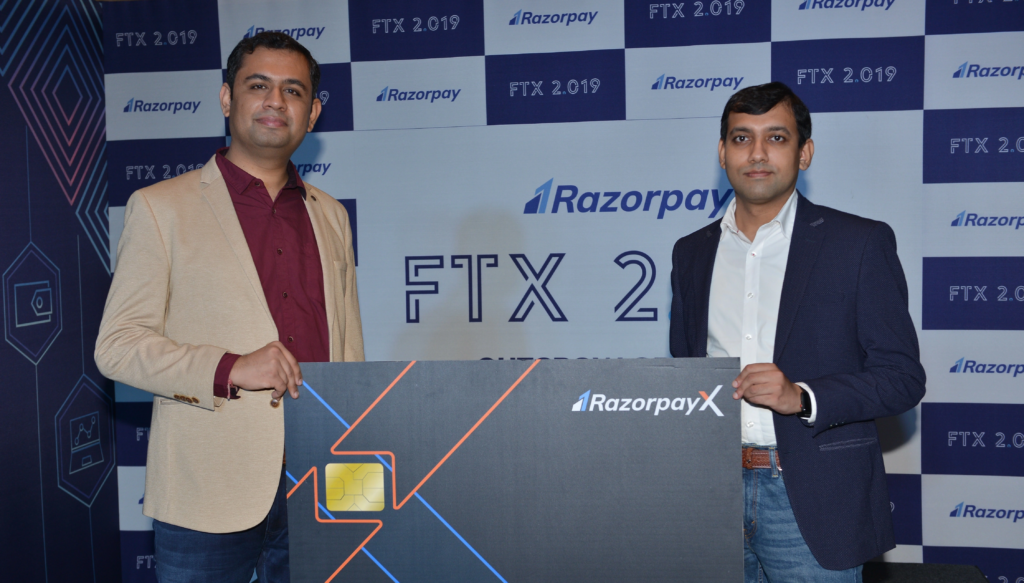 RazorpayX, an API banking platform powered by AI, is yet another standout innovation of the platform. This tool provides organizations with a fully functional current account that they may use to automate payroll, bank transfers, sharing invoices, and other financial tasks.
A platform product called RazorpayX Payouts enables companies to quickly and efficiently distribute payments for everything from vendor and customer payouts to staff paychecks.
Oyo, Cred, Facebook, Flipkart, Zomato, Swiggy, Byju's, Zilingo, Yatra, Goibibo, and the telecom behemoth Airtel are a few of Razorpay's top customers.
About the Founders
Shashank received a Computer Science diploma from IIT Roorkee after attending Patna's St Xavier's High School. He held summer internships at Microsoft and the University of Minnesota while he was a student at IIT. In 2015, he also participated in Y Combinator.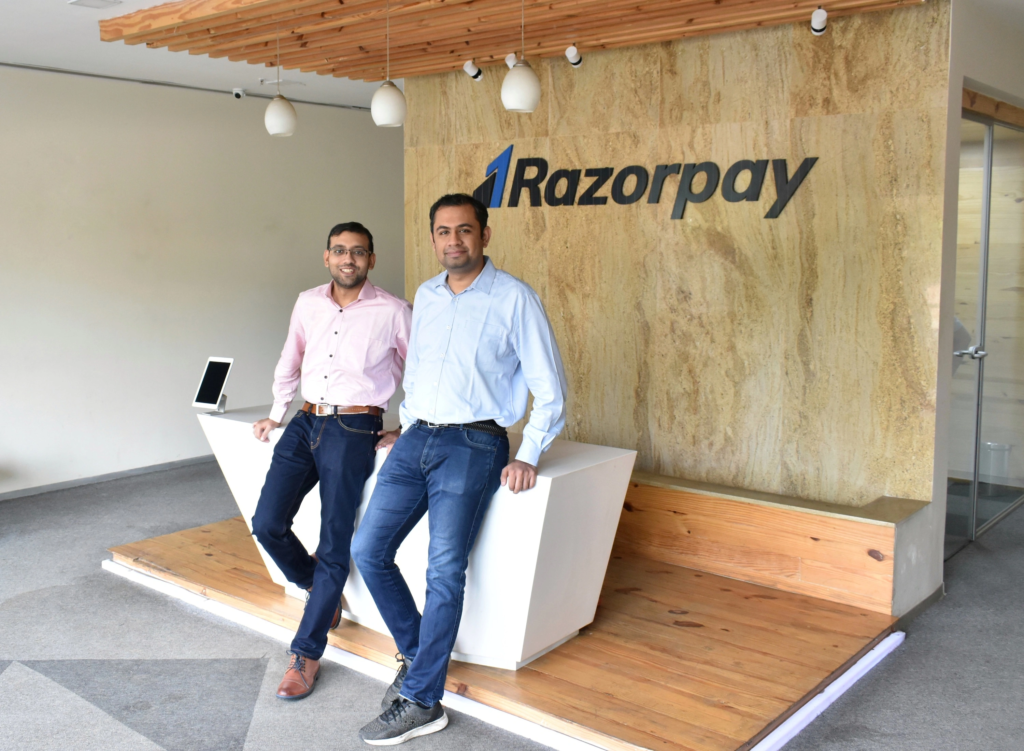 Shashank worked as a software development engineer at Microsoft before founding Razorpay. Additionally, he had joined SDSLabs and had been serving as its Vice President for a full year.
Along with Shashank, Harshil is an IIT Roorkee alum who formerly worked at SDSLabs. He also spent a few months working at Schlumberger as a Wireline Field engineer. At the moment, Harshil holds the title of CEO at Razorpay.
Origin of Razorpay
IIT Roorkee had introduced Harshil and Shashank, and the two co-founded Razorpay in 2014. The two began exploring for options relating to firms that assist in payment processing as they realised the difficulty new entrepreneurs previously had receiving money online. Startups had to create an extensive document list because there were so few payment processing companies in India at the time.
As the co-founders of the platform sought to connect with and persuade more than 100 lenders to work with them, Razorpay's first team of just 11 employees shared a single apartment. The conversations were drawn out and stuck in a rut for a while.
Business Model
According to Your Story, the platform levies fees ranging from 0.25 to 0.5 percent for each subscription collection transaction made through its gateway. The platform has suggested new revenue streams in the future thanks to the setup of version 2.0. Every transaction made through the company's payment gateway carries a fee of up to 2%.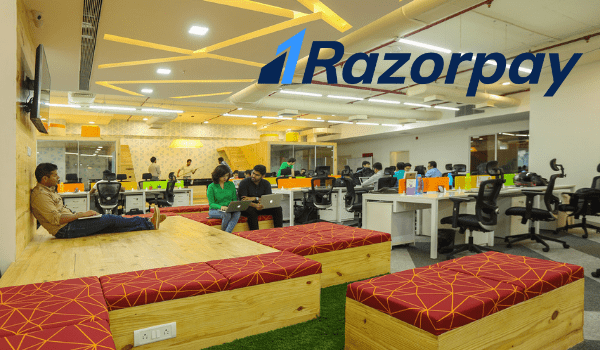 Recent Growth
A new group of micro-entrepreneurs, which also includes freelancers and firms run by people, has been forming amid the salary reductions, ongoing layoffs, and business downsizing caused by the COVID-induced constraints.
For the aim of acquiring customers, Razorpay has concentrated its focus on a number of industries. These industries include e-commerce, ed-tech, gaming, and B2B firms that help businesses go digital. Another industry where the platform has identified potential opportunities are small businesses like supermarkets, schools, and offline merchants who are unused to conducting business online yet seek to digitise their own.
Currently, the platform powers payments for roughly 5 million businesses, including Airtel, Ola, Zomato, BookMyShow, and others, as confirmed by TOI.
The platform recently launched a new lending service for small businesses that are looking for various ways to gain access to simple and accommodating credit, as reported by Business Standard in the month of September. This service would help the businesses in maintaining continuous cash flow and also in repaying the borrowed interest with flexible timelines.
A company line of credit with no collateral, called "Cash Advance," has also been established by the platform. According to the credit history of the company, this line of credit enables MSMEs to borrow working capital with a credit limit of Rs 50,000 to Rs 10 lakh within 10 seconds through the Razorpay dashboard.
The Payment Buttons solution has also recently been added to Razorpay's platform for start-ups and small enterprises. With this tool, freelancers and small businesses may launch a website or blog with a built-in payment gateway in less than 5 minutes by adding a single line of code.
The platform launched its corporate credit card in 2019 and intends to grow to accommodate more corporations and newer enterprises.
Funding
According to Mint, Razorpay just received $100 million in its most recent fundraising round, which was led by the Singaporean sovereign wealth fund GIC and the platform's current backer Sequoia India. The platform has joined the elite group of unicorn startups thanks to this funding.
Leading investors in the platform include Sequoia India, Tiger Global, Y Combinator, Matrix Partners, Ribbit Capital, and Tiger Global.
Following its most recent fundraising round, the platform is currently valued at over $1 billion. After all of its funding rounds, Razorpay has so far accumulated around $206 million.
Conclusion
Nearly all payment gateways today provide the option of choosing Razorpay as a payments provider. The platform intends to use its recently received funds to further develop its two products, RazorpayX and Razorpay Capital, in the next months. The platform has shown a lot of promise for paving the way for additional growth and popularity in the near future with its current ambitions.