Despite its many ups and downs, PhysicsWallah's narrative has been hailed as inspirational. The adage "excellent things take time" is true. That is true, I suppose. Alakh Pandey's (the creator of PhysicsWallah) journey was equally difficult and time-consuming. It is more difficult when someone is passionate about learning and teaching but lacks the necessary resources. However, nothing can prevent you from attaining your goals if your efforts are consistent. He persisted in his efforts in the face of numerous challenges, and as a result, his business became India's 101st Unicorn at a time when other Edtech platforms are experiencing a downturn.
Background
Alakh Pandey, a businessman in his 30s, is an Allahabad native. He attended Bishop Johnson School and College for his education. He began tutoring students in the eighth standard. He did it initially, though, because he needed the money. His parents, however, came to value his teaching abilities as his interest in the field expanded over time. His teaching abilities improved greatly during his time as a teacher at numerous coaching institutes. What set him apart from other tutors was his approach to educating while connecting with students. Though he had aspirations of being accepted into the IIT, things didn't work out as planned because he failed the entrance exam. He then enrolled in mechanical engineering in a Kanpur-area institute, but after three years, he decided to leave.
With nowhere else to go, he returned to Allahabad and began working as a coach at a coaching facility, where he was only paid 5000 per month. Despite the meagre pay, the fame was plenty. He became well-known and a crowd favourite for his engaging teaching style. He combined his talents as a theatrical enthusiast and scholar to deliver instruction with ease. His life was radically altered when he later launched his YouTube account.
Journey
Despite starting the YouTube channel in 2014 (as recommended by the head of the coaching facility), Alakh Pandey didn't post the first video and Pratik Maheswari didn't enter the race until 2016. (co-founder of Physicswallah). His devoted pupils, who gave him the term "physics wallah" for this YouTube channel, are responsible for its success. He used to instruct children in grades 6 through 12 on his YouTube channel. His methods of instruction included scheduled and live lectures, question-answer sessions, and test-based evaluation. He also gave the pupils preparation for entrance tests at the national level, such as JEE and NEET. Because he had lived in poverty, his tuition was relatively reasonable, starting at just Rs 999.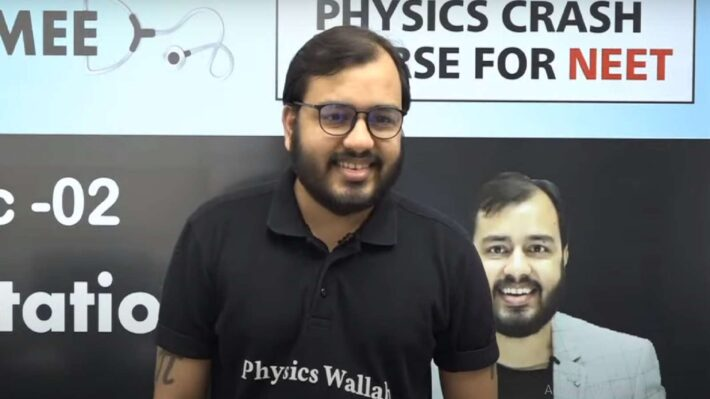 With the help of 13,700 YouTube videos and a team of 1500, Alakh has taught more than 6 million pupils to far. He abandoned his position at the coaching centre in 2017 in order to focus solely on the channel. Despite the beginning slowness of the expansion, turning back was never an option! Between 2017 and 2019, his channel saw a breakthrough as his subscriber count increased from just 4k to 2 million. When the pandemic started, the channel flourished unlike anything else. He created the app "PhysicsWallah" in 2020. He began giving offline lessons and posting lectures online. At the moment, Physicswallah operates over 20 offline locations dispersed throughout 18 cities with over 10,000 students enrolled.
When did it become a unicorn?
He spent his income exclusively up to 2022. Everything, from the company's incorporation to the creation of the "PhysicsWallah" app, was funded by his YouTube earnings. The businesses first saw his potential in 2022. The startup completed its Series A investment on June 7. Alakh Pandey, a self-made entrepreneur, was able to raise $100 million for his startup from Westbridge Capital and GSV Ventures.
Challenges
It was difficult for him to stand apart with his startup. He testified to the difficulties he faced along the way. He recalled the times when Unacademy offered him 75 crores, or when other companies offered him 40 crores as an annual salary, but he turned them down because he wanted to see his firm succeed.
When he refused to give up on his business, things didn't stop at just seducing him; a number of other companies began taking his team in various ways. Even a large portion of his employees left. However, he persisted anyway, and the outcome is what we can see now.