Rajasthan also popular as the 'land of Kings' is India's largest state. For many years it has been the prime spot: as a tourist destination. Its dance, heritage, culture, royal beauty when combined altogether, are enough to melt everyone's heart. There are numerous exciting places to visit here. Let's look at the top 10 tourist places to visit in the 'land of the Kings'.
Mount Abu
Mount Abu is the only hill station in Rajasthan. It is located in the Aravalli ranges near the Gujarat border. Mount Abu contains several mountains which are home to various lakes and rivers that's why it is called an 'oasis in the desert.
The hills are so attractive to rule over your heart. It is a holy site as well. In ancient times various rishis used to live in these hills. Mt. Abu is having numerous Hindu temples including other Aadhar Devi Temple, Shri Raghunath Ji Temple and many more.
When we are highlighting Mount Abu, how can we skip 'Dilwara temple', a complex of temples carved out of white marble? It has been visitors' attention for a long time.
Bikaner
Bikaner, the fourth largest city of Rajasthan is another worth watching site. It is located in the middle of the Thar Desert and has a hot desert climate. It is characterised by variation in temperature. During the morning, the temperature may turn out to be more than 48 degrees and at the same at night can dip down to even negative.
Besides fluctuations in temperature, it homes various tourist places like Junagarh Fort, Laxmi Niwas Palace, Rao Bhikaji Fort and many others.
The special place in Bikaner is Karni Mata temple. It is a mysterious temple in which thousands of rats roam inside it and cause no harm to life and people. The locals point out that they are not rats; they are the devotees of Karni Mata.
Chittorgarh
Another exciting place in Rajasthan is Chittorgarh. It is located in the western part and is home to Chittor Fort, the largest fort in Asia and India. The fort hides several historic wars behind it. It is a UNESCO World Heritage Site. The fort was the capital of Mewar and is located in the present-day town of Chittorgarh. It sprawls over a hill 180 m (590.6 ft) in height spread over an area of 280 ha (691.9 acres) above the plains of the valley drained by the Berach River. The fort covers 65 historic structures, which include four palaces, 19 large temples, 20 large water bodies, 4 memorials and a few victory towers.
Popular Stambhs such as the Vijay Stambh and Kirti Stambh are also located here. It is said that Vijay Stambh, a nine-storey building was built by Maharana Kumbha to commemorate his victory over the rulers of Malwa and Gujarat. Another one, Kirti Stambh, also known as the Tower of Fame was built by a merchant and dedicated to Rishabh.
Ranthambore National Park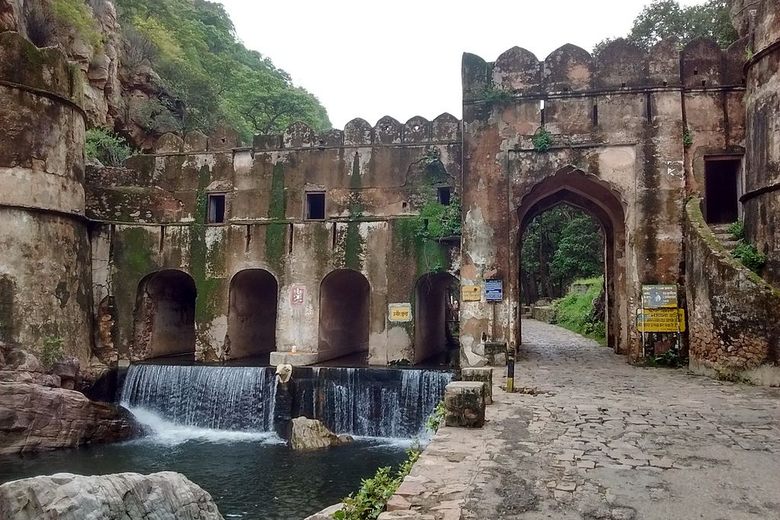 One of the top tourist attractions in Rajasthan is Ranthambore National Park. It is one of the best destinations for wildlife lovers. You will come across thousands of mammals, reptiles, birds here. Especially, there is a rich variety of birds due to diverse terrain and water bodies. It is also home to a high tiger population which will make your journey quite thrilling. The century consists of various extraordinary animals like the golden jackal, Blackbuck Indian flying fox, sloth bear, mugger crocodile, caracol, nilgai etc. They are just a few, the list is quite long. Despite this, it is having a rich variety of flora and beautiful meadows.
Bundi
'The city of stepwells' is the affectionate name of Bundi. It will provide you with many beautiful experiences. You will get several holy, artistic and historic sites here.
The places of main interest include Garh palace consists of pillars with old mirror scenes of Krishna, animals and hunting and another one is Taragarh fort, usually marked by its monkey population but still giving calmness.
'Stepwell' is one of the heritage places to see in Bundi. The well is fantastic and worth watching. According to netizens .it is an incredible gasping scene when your eyes first fall on it. All you need is to pick a suitable whether that is non-monsoon.
Udaipur
Udaipur formerly the capital of Mewar kingdom is a beautiful city in the 'Land of Kings'. it is known for its culture, scenic locations and Rajput era places. It is popularly known as the 'City of Lakes'.
A special mention of 'Lake Pichola' should be made. It is an artificial freshwater lake and is one of the several contiguous lakes in Udaipur. With time it is developed with several ghats namely Gangaur Ghat and Ambrai Ghat.
Several other tourist places are 'City palace', 'Lake palace', 'Jag Mandir', 'Kesariyaji Temple',' Monsoon palace' and many more. Every place will provide you with a beautiful and memorable experience.
Also Read: Most traveled destinations in India
Pushkar
Pushkar is a pilgrimage site for Hindus and Sikhs located in Ajmer near Pushkar lake. It is a highly pious place having numerous temples and gurudwaras. The most famous is the Bramha temple.
The distinctive feature of Pushkar is the Pushkar fair – a five-day fair. It is one of the largest cattle fairs in the country including over 50,000 camels, even cows, horses and camels are beautifully coloured and decorated.
Besides it, Pushkar Holi, ghats, temples along with various gurudwara are enough to make it a lovely tourist destination.
Jaisalmer
Jaisalmer nicknamed 'the golden city' stands on a range of yellowish sandstones and is crowned by Jaisalmer Fort. The town lies in the heart of the Great Indian Desert, 'The Thar '.
Jaisalmer is enriched by the Jain community and the centre of attraction is 'Jaisalmer Fort'. It has seen many battles and its massive sandstone walls wear lion colour during the day and turn into a magical honey-gold color as the sun sets. The scene is so beautiful that one can fall short of words to elaborate it.
There are seven Jain temples within a fort known for their exquisite art and architecture. It is the place of special attention for Jain culture. Rarely found manuscripts of Jain culture are kept in Jaisalmer's library.
Jodhpur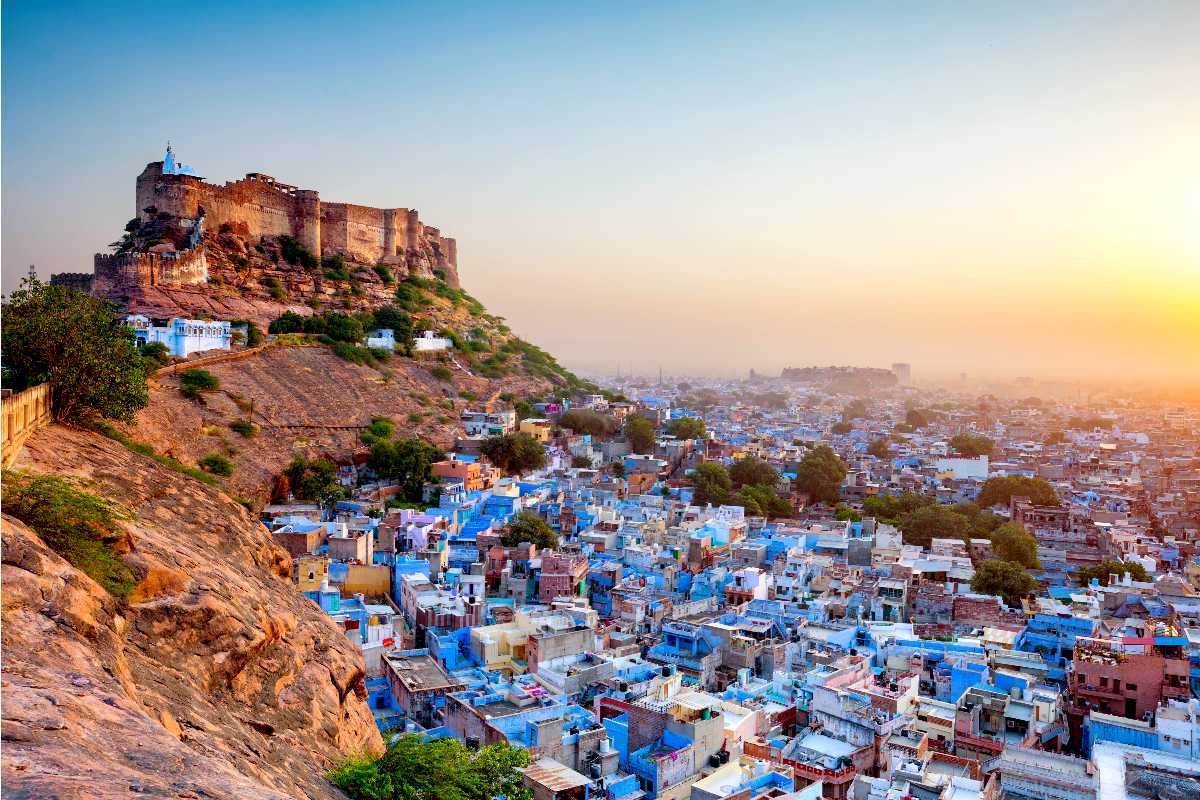 The second-largest city of Rajasthan is Jodhpur. Indians affectionately called it 'blue City' or 'Sun City'. It is home to several educational institutions and research institutes.
A very beautiful monument of Jodhpur is Jaswant Thada entirely made of white marble displaying intricate lattice carvings. Its beauty made people call it ' mini-Taj'. Rao Jodha Desert Rock Park, Umaid Bhawan Palace Museum, Mandore Garden are some other exciting places in Jodhpur. Mehrangarh and Phool Mahal are also there to provide you with a long-lasting and breath-taking view.
Jaipur
Here comes the capital city of Rajasthan Jaipur popularly known as Pink City. It is enough to take over you.
The most famous tourist place in Jaipur is Hawa Mahal – a stunning presentation of the rich architectural expertise of the past in the heart of Jaipur. Another remarkable place is 'City Palace' a perfect blend of Mughal and Rajasthan culture.
Jaipur will interact with you with the real beauty of Rajasthan. Its scenic beauty will surely impress you.
From here, we all can admit that Rajasthan is surely a tourist material. So, what are you waiting for? Just pay a visit to Rajasthan.