Emirates Palace – Abu Dhabi
When it comes to luxurious hotels, this one is at the top. Costing approximately $3 billion to build, Emirates Palace has 394 grand rooms and suites, 40 meeting and conference rooms, a white sand beach, a myriad of pools and fountains, two sumptuous spas, marble imported from 13 different countries and over 1,000 Swarovski crystal chandeliers. It's like a small pleasure fortress that also boasts the most prestigious marina development in the Middle East. Royalty, or those who want to feel like it, can luxuriate in one of the many palace suites, all with lavish surroundings that would benefit a Sultan of old yet with enough modern amenities to please today's top tycoons.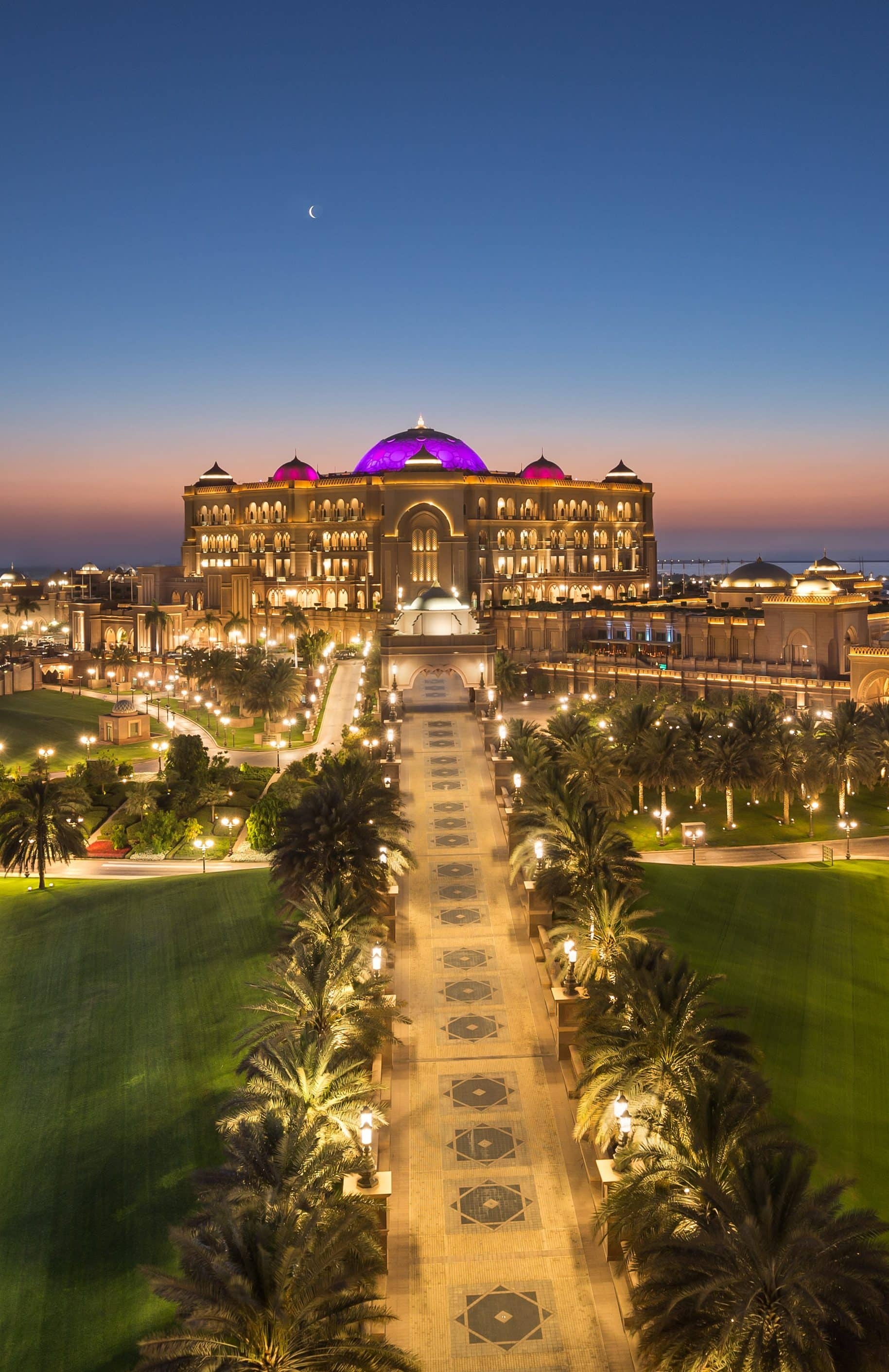 Rooms and facilities
Emirates Palace consists of 394 residences, including 92 suites and 22 residential suites.The residences are spread over two wings as well as a primary central building. The majority of the suites are furnished in gold and marble. The main primary building houses an expansive marble floor and a large patterned dome above, picked out in gold. The penthouse floor has six Rulers' Suites which are reserved exclusively for dignitaries, such as royalty.
The facilities include 2 spa facilities, over 40 meeting rooms, a 1.3 km long beach, a marina, 2 helicopter landing pads, a ballroom that accommodates up to 2500 people, various luxury shops and international restaurants.
Rancho Valencia Resort & Spa, California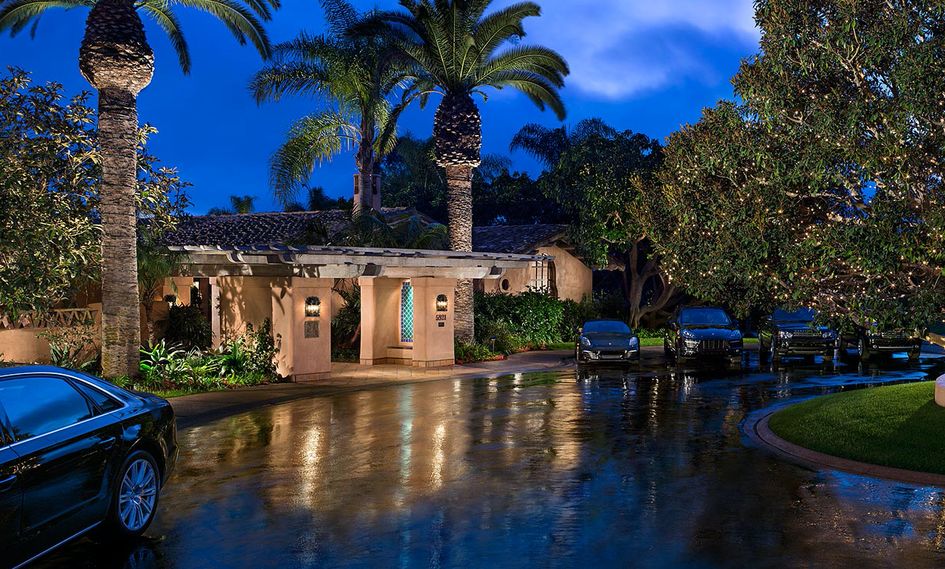 If you are a tourist to one of the most busy places , South California and if you have a need for speed, Rancho Valencia Resort & Spa, is the right destination. Automobile enthusiasts can hit the road in newly-released Porsche models.
Located among the hills of Rancho Santa Fe, this beautiful, natural resort features a full-service spa, golf course and top-rated tennis courts. Free Wi-Fi is available at the resort.
The Rancho Valencia Resort and Spa offers bright rooms with spacious windows and a lush garden patio. A fireplace, flat-screen cable TV and a DVD library are included.
The Restaurant at Rancho Valencia serves fine cuisine in an elegant Mediterranean setting. Guests have views of the surrounding valley from inside the restaurant or out on the terrace.
Free use of bicycles, croquet equipment and bocce equipment is offered to all guests. A fitness center, 2 pools and yoga classes are also available.
The Rancho Valencia Resort is 12.9 km from downtown Del Mar and 22 minutes from Black Mountain Park. San Diego International Airport is 39.3 km away.
The Westin Excelsior, Rome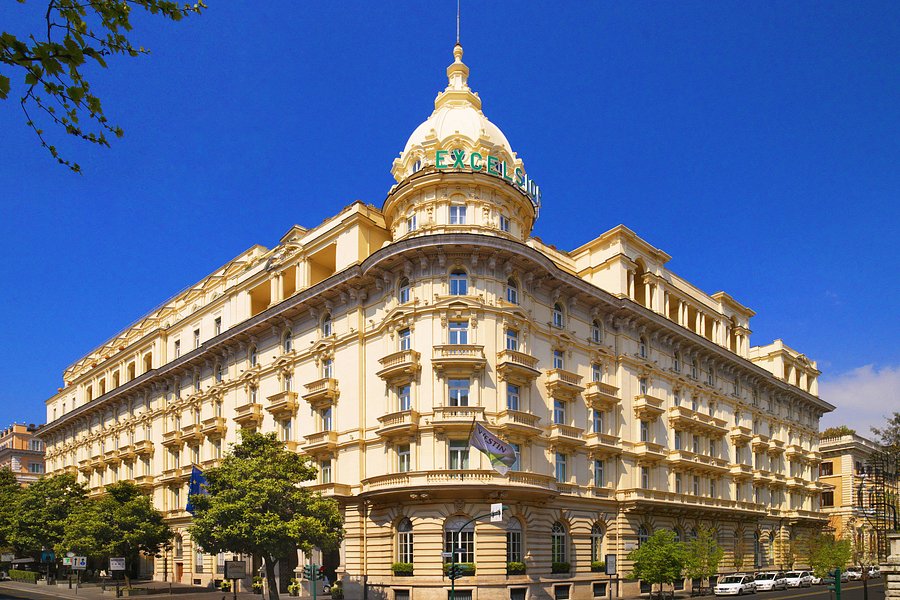 Built in 1906, The Westin Excelsior Rome has an impressive pedigree in the Via Veneto district. Though most rooms are affordable, their piece de resistance is the Villa La Cupola Suite, which was renovated at a cost of $7 million. This signature luxury cocoon spans two full floors, making it the largest suite in Italy. Furnished in grand old style with modern high-tech gadgets, hand-frescoed cathedral-style domes, its own private fitness area, Jacuzzi, and a formal dining room, it's a perennial favorite for those who deem money to be no object.
Burj Al Arab Hotel, Dubai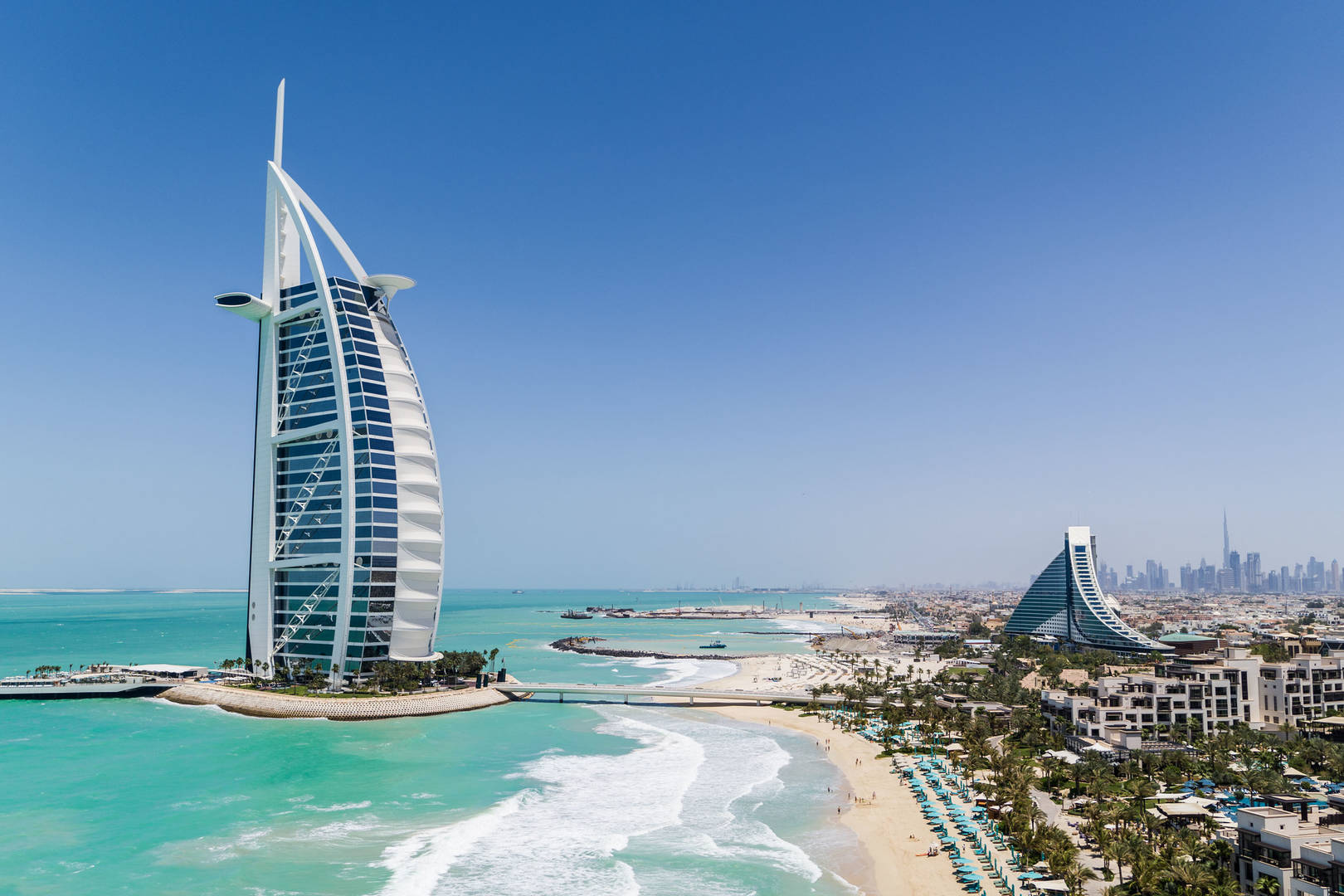 Built to resemble a billowing sail, the stunning architecture of Burj Al Arab Hotel in Dubai makes it one of the most photographed in the world. All rooms are luxurious suites spanning two floors with state-of-the art everything and incredible views. And beyond the unique over-the-top amenities like the attached helipad and hovering tennis courts, there is a vast array of futuristic dining and nightlife options. Their guest care is also seriously intensive. Upscale extras include in-suite check-in, 24/7 personal on-call butlers, and a chauffeur-driven Rolls Royce fleet, all catering to an extremely well-heeled VIP clientele that often includes royalty.
The Plaza, New York City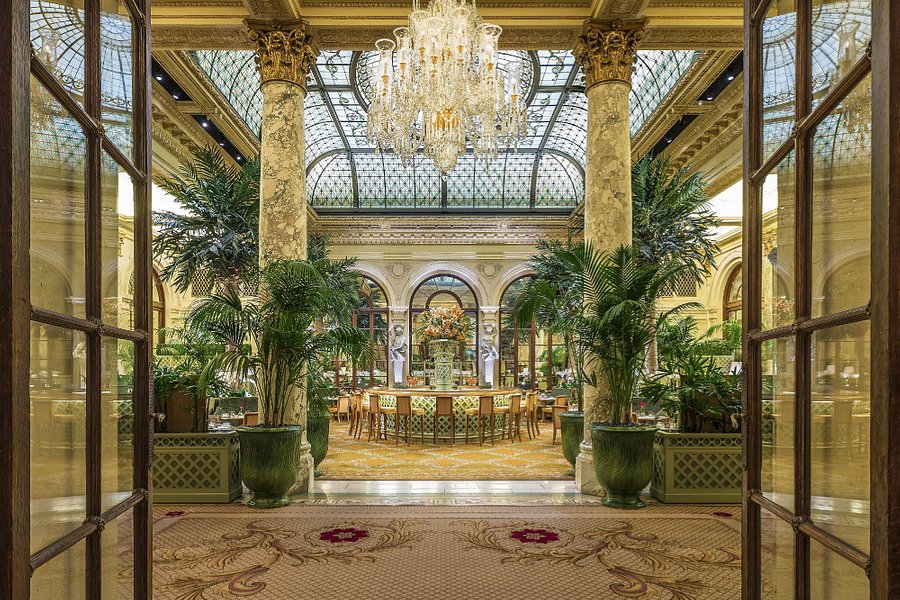 Though the Big Apple has many legendary and swanky hotels, The Plaza is often the top choice for visiting VIPs. The Royal Three Bedroom Suite is styled in the most opulent of old world charm with a formal dining room for up to 12 guests, a library, a gymnasium, a grand piano, full kitchen (for personal chefs), and is serviced by its own private elevator. Butler service is also included. Built in 1907, the iconic structure was designated as a National Historic Landmark in 1969.
Atlantis Paradise Island, Bahamas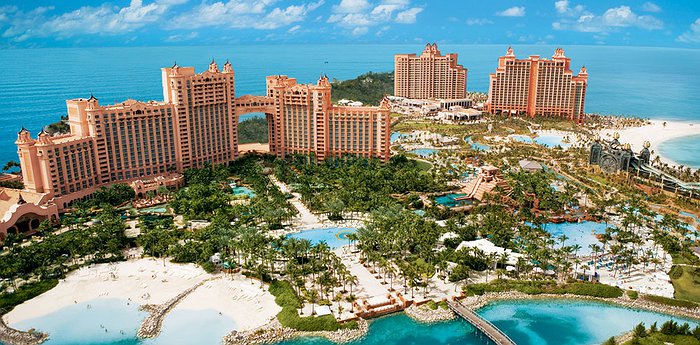 Built in tribute to the legendary lost city, Atlantis Paradise Island is a 141-acre facility touted as the premier luxury resort destination in the Bahamas. It's the resort's Bridge Suite on the 23rd floor that really pulls out all the swanky stops. It spans 10 plush rooms topped by 12-ft. ceilings and full-length windows, and includes a grand piano, twin entertainment centers, a formal dining room with a 22-karat gold chandelier, plus a permanent staff of seven butlers and attendants to cater to your every whim.
Palms, Las Vegas
The Las Vegas Palms is famous for high-roller living, and what better way to really indulge in Sin City than cavorting in one of their luxury rooftop suites like the Two-Story Sky Villa. The 8,500 square foot suite accommodates up to 52 guests for a get-together and boasts an enclosed pool overlooking The Strip. A rotating bed, gym, media room and 17-seat full bar make these swanky digs the perfect spot to fulfill the fantasy of living in the style the world's most famous playboy is accustomed to.
The Boulders, Arizona
The wow-factor is left to Mother Nature at The Boulders, and it's just as well, as no man-made decor could possibly compete with the resort's surreal 12-million-year-old rock formations. Spanning 1,300 acres of the Sonoran Desert, the massive spa compound promises the ultimate in natural rejuvenation treatments, and the two golf courses are world class. There's also an über private gated Villa Retreat for celebs seeking anonymity.
Combining world-class service, luxurious amenities, elegant accommodations, and Southwestern flair, this resort is ideal for corporate groups, family reunions, and romantic getaways. Indulge in healing spa therapies and meditate in the labyrinth or shamanic tipi. Our two 18-hole Jay Morrish-designed golf courses were added to Golf Digest's Editors' Choice 2019 list. Enjoy nature on foot, by bike, with a fishing pole, or on horseback.
The surrounding desert inspired the design of our adobe Casitas and suites, which feature wood-burning fireplaces, Southwestern accents, wood-beamed ceilings, and natural stone showers. For more space and all the comforts of home, reserve a private, fully furnished one-, two- or three-bedroom Hacienda or Villa. These luxury vacation homes feature private patios with grills, laundry rooms, bathrooms for every bedroom, and fully equipped kitchens.
CuisinArt Golf Resort & Spa, Anguilla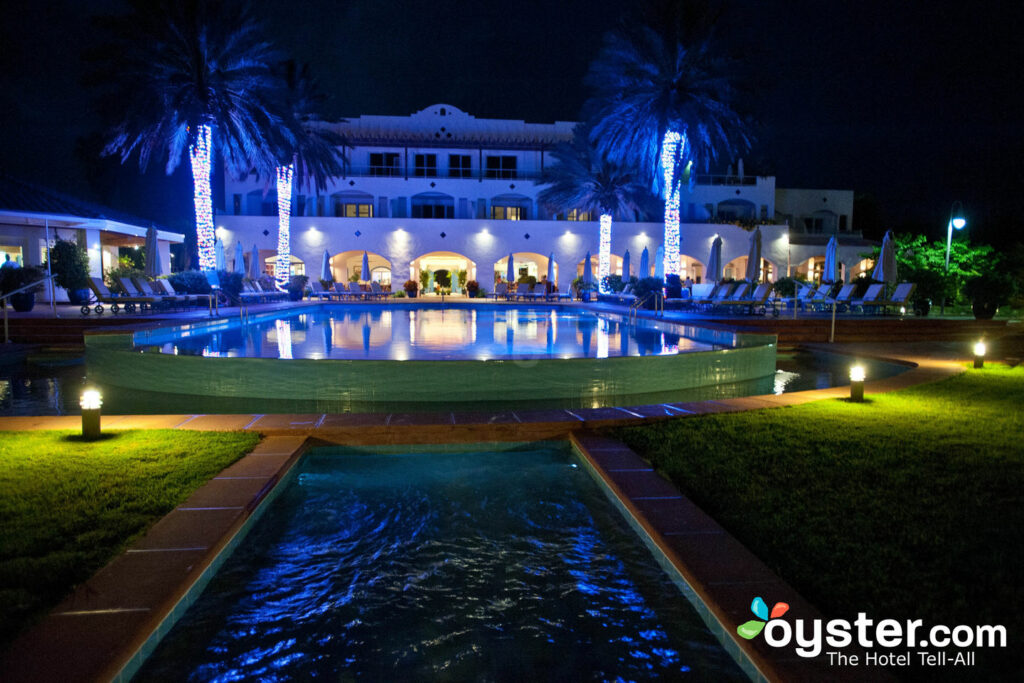 Brought to you by the same folks that created the famous food processor, CuisinArt Golf Resort & Spa was originally built as a tropical playground for its owner, but later expanded to include guests. Luxury guest rooms and Moorish-inspired villas dot the massive grounds cresting Anguilla's world class beaches. The resort's Venus Spa & Fitness complex was rejuvenated to the tune of $10 million dollars, and the property also boasts a $50 million dollar, Greg Norman-designed golf course next door. This luxe hideaway is very popular among celebrities seeking barefoot luxury far from the spotlight.
Marquis Los Cabos, Los Cabos
Inspired by a celestial legend of two angels seeking paradise on earth, the spectacular lobby of Marquis Los Cabos opens out onto the wildly restless sea like a temple to its creation. Gorgeous specially-commissioned sculptures, massive waterfalls, spectacular infinity pools, and a lovely serene spa set the stage for vacationing VIPs. (George Clooney's beach villa is next door.) Luxurious rooms boast balconies where one can often spot migrating whales, and there are also private villas with personal dipping pools.