Mumbai, being India's one of the largest metropolitan cities with a huge population of 2.3 crores , has always been a city to look upon with various different cultures and tourist places. When it comes to a budget friendly and a short , sweet trip to enjoy with family, this urban city holds the top.
Here are such wonderful tourist destinations in the city of Mumbai that one could take a visit during their trips.
Gateway of India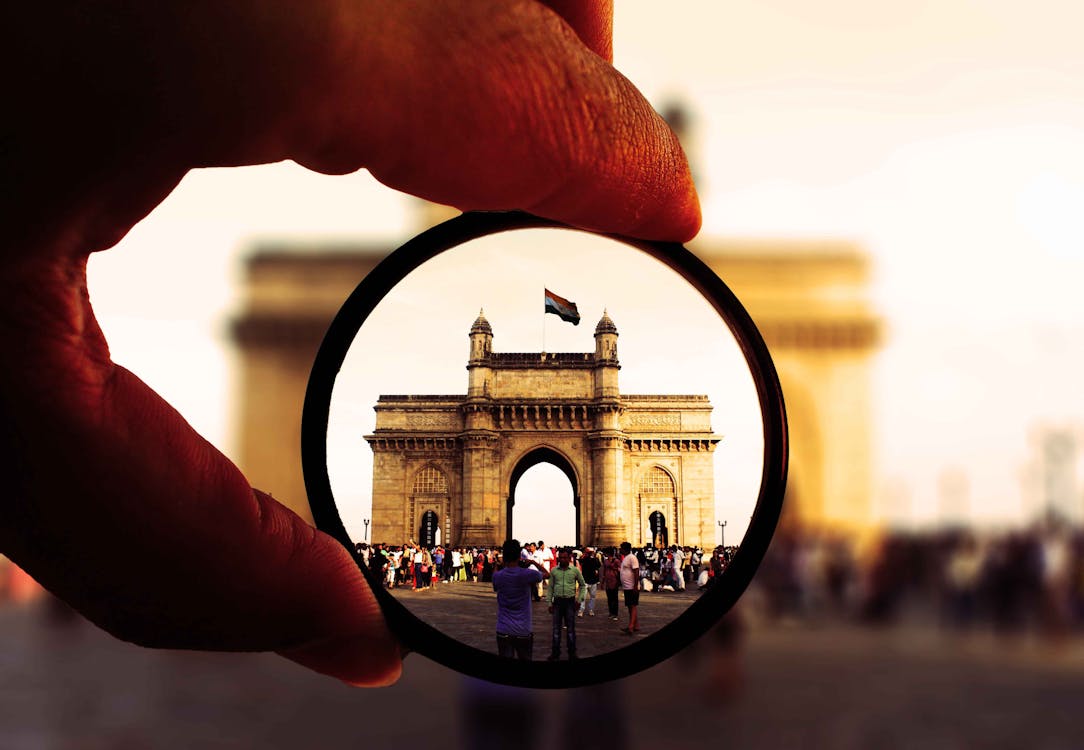 The Gateway of India is one of the most popular destinations to see in Mumbai in a day and is one of the city's most popular tourist attractions at any time of year. The monument was built by the British in 1919, with Sir George Sydenham Clarke, the then Governor of Bombay, laying the foundation in 1911. Construction began after the plan was approved in 1914.
Chhatrapati Shivaji Maharaj Vastu Sangrahalaya (Prince of Wales Museum)
The Prince of Wales Museum, officially known as Chhatrapati Shivaji Maharaj Vastu Sangrahalaya, is one of the country's most important art and historical organisations. One of Mumbai's most popular tourist destinations. The Chhatrapati Shivaji Maharaj Vastu Sangrahalaya is one of Mumbai's most popular tourist attractions, with an excellent architectural style inspired by Indo-Saracenic cultures.
Chhatrapati Shivaji Terminus (Victoria Terminus)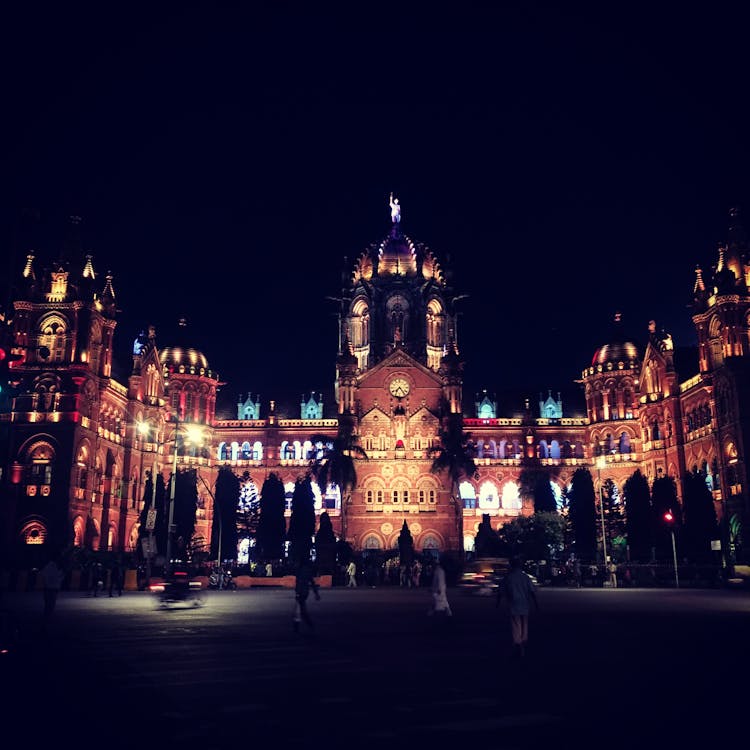 The Chhatrapati Shivaji Terminus, formerly known as Victoria Terminus, is Mumbai's most important train station. This building, constructed by British architect FW Stevens, is a great Victorian Gothic Revival architectural style, despite the fact that it is a railway station and not largely counted among sites to see in Mumbai.
The designs are based on well-known medieval Italian models.
Jehangir Art Gallery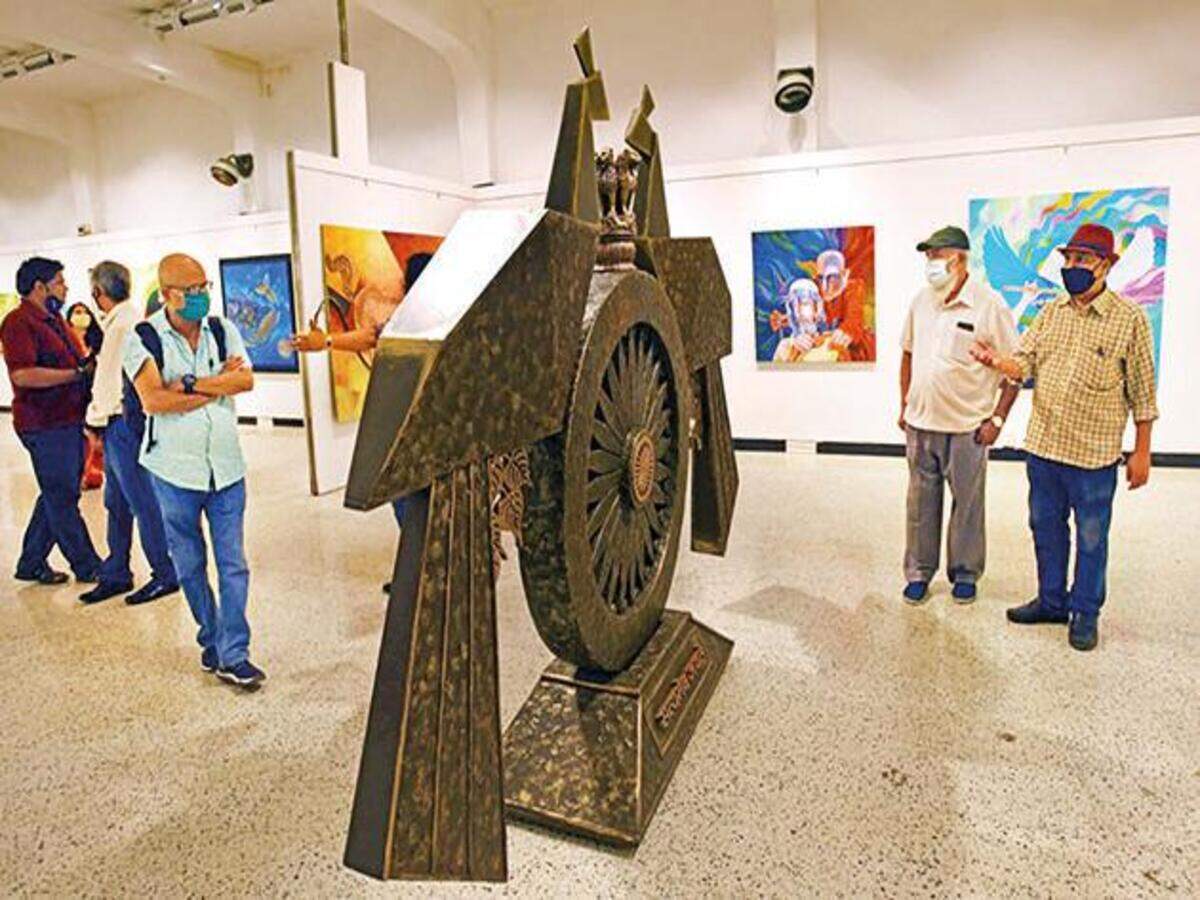 In 1952, Sir Cowasji Jehangir, second baronet, founded the Jehangir Art Gallery, a landmark in the field of art. The art gallery, which is located in Mumbai's southern district, is remembered not only as a key location for exhibitions of rare and valuable paintings, sculptures, photography, and crafts, but also as a symbol for the promotion and empowerment of Indian modern art.
Apart from exhibitions, the gallery hosts a variety of workshops, debates, and talks on various topics of education and art, with up to 300 shows every year. Furthermore, the establishment of this gallery contributed to the development of Mumbai's modern art scene. The annual festival known as the 'Kala Ghoda Festival' is also conducted here that attracts many more tourists.
Girgaum Chowpatty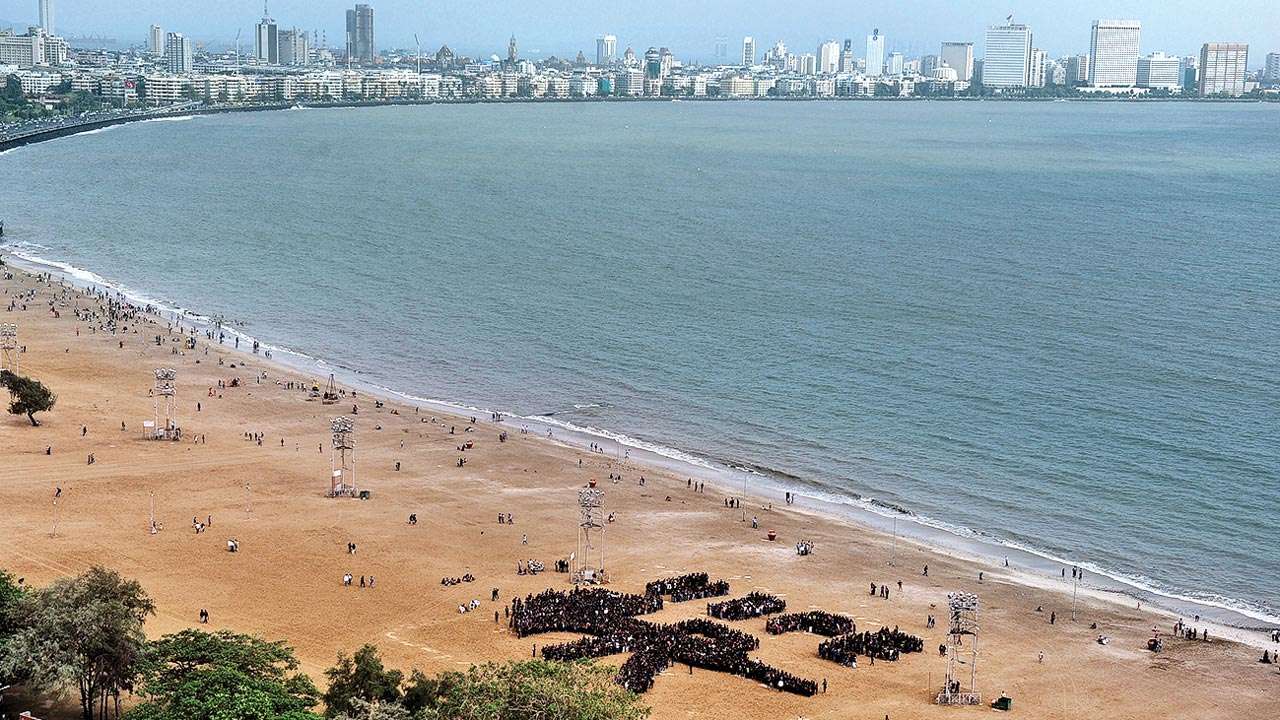 Girgaon Chowpatty is one of the most popular places to visit in Mumbai. It is a sandy beach outlining Marine Drive in South Mumbai. Brimming with colourful lights, the aroma of street food, calming sound of the sea waves, and attractive local markets, Girgaon Chowpatty never disappoints.
No matter what time of day it is, you will always find a swarm of people indulged in various activities by the sea. If you want to spend some time in solitude, then a gentle walk by the shore will imbibe you with new energy. The cool sea breeze reminds you of its existence from time-to-time as you sit in a quiet corner and just watch the world busy in its glory.
Girgaon Chowpatty also serves as a great picnic spot for a family outing. Just make sure to keep your little ones within your sight since the beach is usually crowded and it becomes a task to find people amidst an ocean of people.
During the morning hours, people are seen exercising, running or simply breathing in the sea breeze. The evenings are vibrant with people who are busy soaking in the vibe of the place. On moonlit nights, romance and friendship are profound.
The place is enchanted with merry-go-rounds, Ferris Wheel, gun shooting galleries, fortune tellers, and vendors that try to sell you things like balloons, mats, sunglasses, cosmetics, and peanuts. It is a sight to behold during the Ganesh Visarjan celebrations when thousands of people visit the beach to immerse Lord Ganesha's idols in the Arabian Sea.
Marine Drive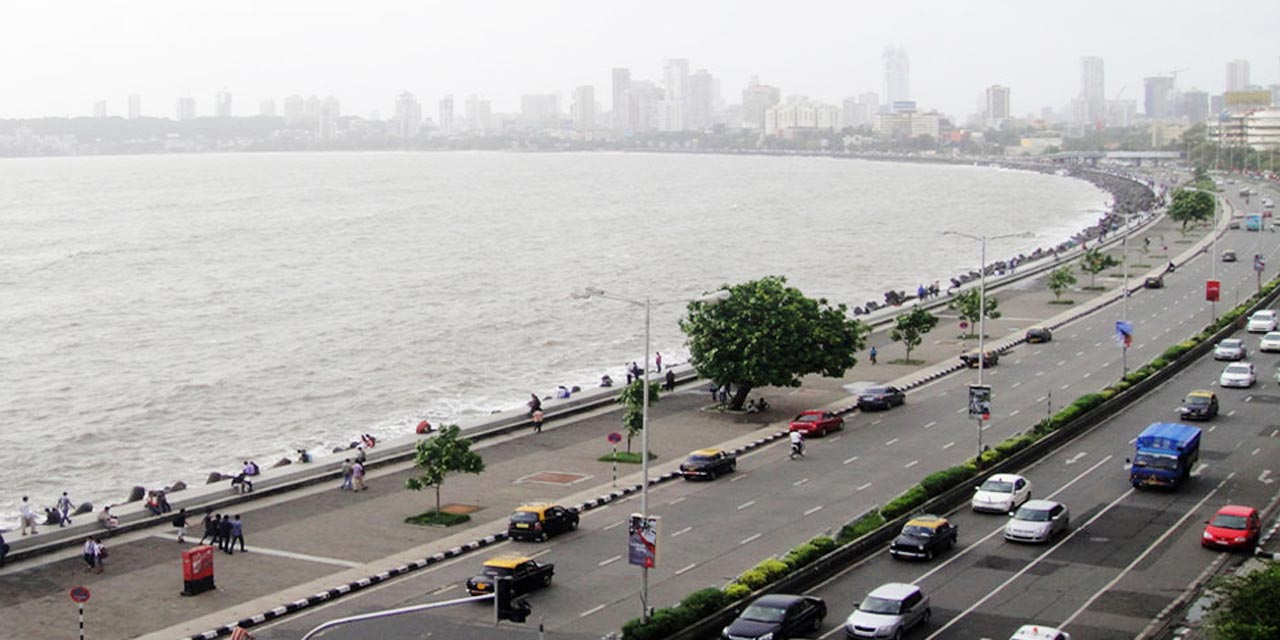 Officially known as Netaji Subhash Chandra Bose Road, Marine Drive of Mumbai is a concrete road of 3 kilometers, located in the southern part of the city. It stretches towards the north and forms a bay. Located at the foothills of the Malabar range, this beautiful road attains a 'C' shape and connects Babulnath to Nariman Point.
Marine Drive is even known as Sonapur. This beautiful tourist destination is also popularly called Queen's Necklace as the sparkling streetlights along the huge coastline appear like a chain of stunning pearls at night, creating a virtual picture of an elegant necklace.
Marine Drive is visited each day by the locals as well as tourists, who come here to experience a break from their monotonous life and breathe some fresh air. The residents of the place flock here in the morning and evening to take their regular walks, jog, and do some simple exercises. Tourists visit the spot to experience the natural beauty of the place, indulge in photography, and enjoy some local food items of the city. People also prefer staying up at Marine Drive late at night and spending a good time in this peaceful and calm environment.
It is believed that Marine Drive is the pride of the 'City of Dreams' and the city is incomplete without this mesmerizing spot. The magic of this place adds a charm to the entire city of Mumbai and propels people from all corners of the world. The beauty of this destination is so popular that many travelers land up at Marine Drive as soon as they reach Mumbai for their vacation.
That being said, before you plan your visit to Marine Drive it is worth knowing the history of this place and what the destination has in store for its visitors.
SiddhiVinayak Temple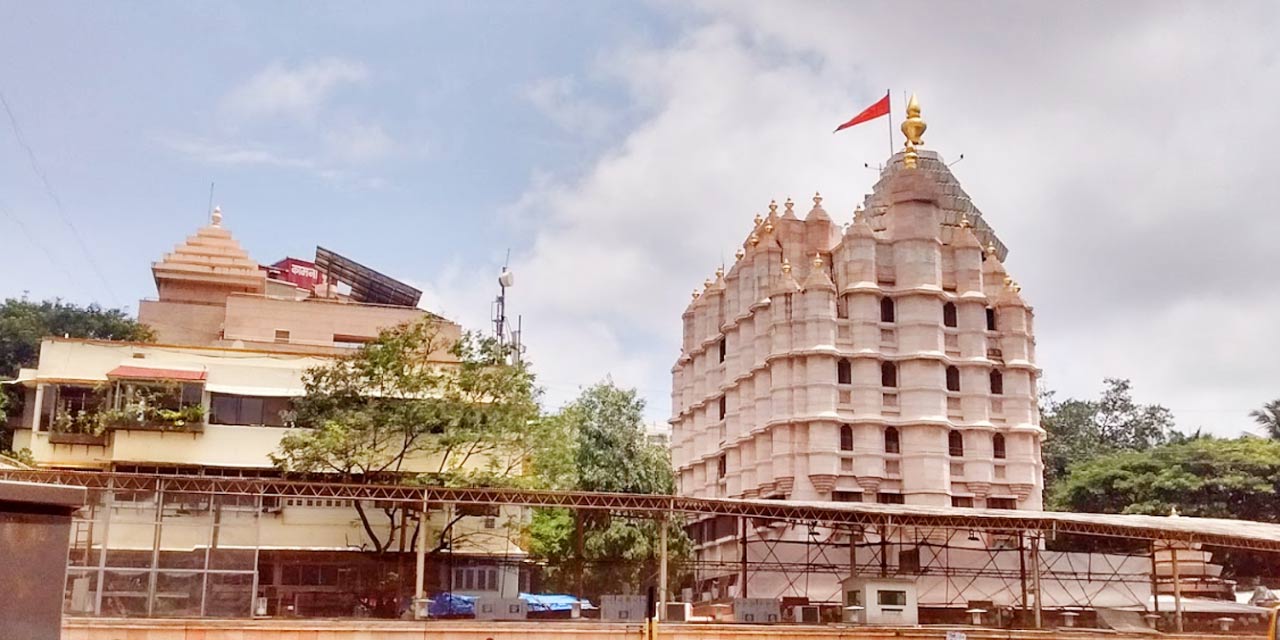 The Siddhivinayak Temple in Mumbai, dedicated to Lord Ganesha, is one of the most popular places to visit in Mumbai. Every day, thousands of devotees flock to the two-hundred-year-old temple, patiently waiting their turn to offer their prayers to Lord Ganesha.
The temple was founded in 1801 by a woman named Deubai Patil, who funded and built the temple in order for the Lord to bless her with a child and other ladies like her. The lake, which is right next to the temple, was dug in the nineteenth century to help alleviate the area's water shortage
Celebrities, actresses, producers, and directors frequently visit the Siddhivinayak Temple to seek the Lord's blessings before the premiere of their films. The temple opens at 5.30 a.m. and closes at 9.50 p.m. The times of the temple vary according to the festivals such as Ganesh Chaturthi.
Babulnath Temple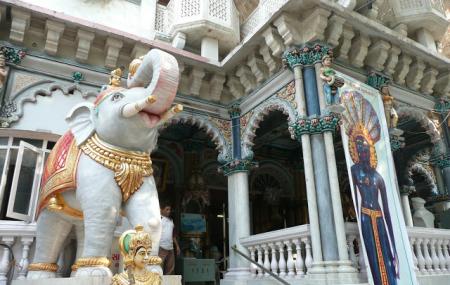 Whenever you are visiting Mumbai, Babulnath Shiva temple is a must-visit for inner peace and tranquility. It is one of the oldest temples in Mumbai, which increases its importance in the eyes of the loyal devotees.
Its walls are specially carved with limestone that depicts the Hindu mythology, which travelers find exciting at the first look.
At this temple, the beautiful marble flooring is specially brought down from Rajasthan.
Thus, each step you take inside this temple feels royal and enchanting along with the daily devotees you can meet and greet, dressed in Indian attires. So, every moment spent in this temple is blissful with internal peace and devotion.
Moreover, you can witness devotees from different corners of the world who love to pay their tribute to Lord Shiva and other idols.
Once you enter the holy temple revered by so many Hindus and locals, you can find sculptures and idols of Lord Ganesha, Lord Hanuman, and Nandi with Kashyap. We would also advise you to buy a basket outside the temple steps before entering.
This basket will bring joy, happiness and fulfil all your wishes once you pay your heartfelt worship to Shiva and other lords like Durga Mata and Goddess Parvati at the center of this temple.
If you have any doubts regarding the same, you can always ask devotees around you or the priest to know how to get the prayer done with the basket that you buy.
On the other hand, idols of Goddess Parvati and Durga Mata are respectfully placed in the center of this temple. What's even more special about this temple is that around 4 times a day, prayers for Lord Shiva are recited here.
This temple gets approximately a lakh devotees for Darshan during the Mahashivratri. The whole scenario is a sight to behold and capture in your hearts to narrate stories about back home.