Pedra do Telégrafo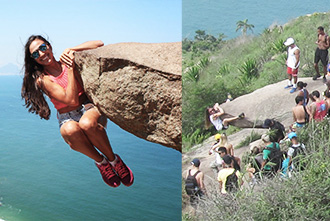 A stunning mountaintop, Pedra do Telégrafo is an Instagram-perfect-selfie spot for adventurous people around the globe.
The pictures taken here looks like people are not afraid to put their neck on the line.
But what looks like a death-defying stunt involving a jutting rock and heart-stopping drop amounts to nothing more than an illusion.
With a clever positioning and witty art direction, one can create an illusion, guaranteed to shock everyone. 
Reality: The cliff is actually at a mere 9.8 feet (three meters) from the ground! 
The Atlantic Ocean Road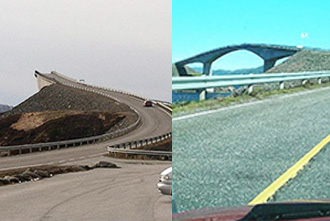 Constructed in 2005, the Atlantic Road has become hugely popular for its Storseisundet Bridge. It is an 8.3 km long winding road that runs across a group of islands.
The bridge is so dramatically shaped when viewed from a certain angle, the bridge looks like it drops off into the sky while in reality, it is just curving down!
Sorvagsvatn Lake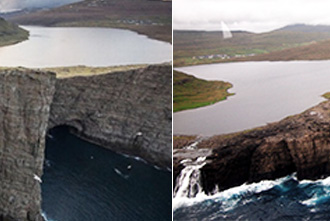 Lake Sorvagsvatn has been blowing minds with its illusion perspectives. Located on the Faroe Island, in between Iceland and Norway, the lake appears as it is much higher than the Atlantic Ocean. However, the lake sits 30 meters above sea level.
Mauritius Island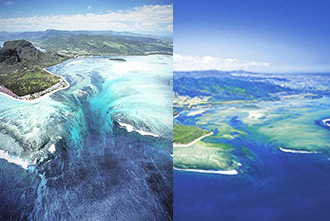 Located at the Southwestern tip of Mauritius Island, one can find a fascinating illusion. When viewed from above, an 'underwater waterfall' can be seen which is the impression created from runoff of sand and silt deposits.
Earth's Largest Mirror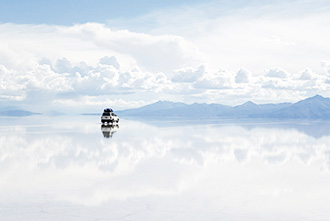 Bolivia's Salar de Uyuni is the world's largest salt flat. Extending over 10,480 km, when the nearby lakes overflow, a thin layer of water and the surface becomes reflective, making it appear as though any person or thing on them is simple floating.
Paria Canyon State Park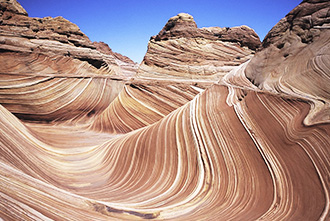 Popular as 'the wave', Paria Canyon State Park in Arizona gives a blow to one's perception as the stripe pattern on the rock makes it hard to comprehend the shapes of the rocks.
Namib-Naukluft National Park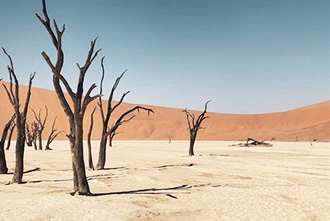 The contrast between the claypan's white floor, the dark trees, and the sun reflecting off of the dunes in the back that gives a natural optical illusion making it look like a painting.
Magnetic Hill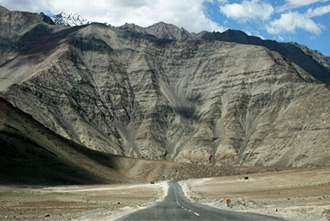 Situated in Leh Ladakh, the magnetic hill is a gravity hill near Leh. The strong magnetic force that emerges from this hill pulls vehicle towards it when one is driving on the road. Even if you are driving "uphill" you don't need to use the fuel.
Further Reading: