As more consumers turn to e-commerce for all of their shopping needs, quick fulfilment and distribution are no longer a "nice to have" thing—it has become the expectation of every online shopping experience. When we talk about developing countries like India, globalization has fueled their economic expansion. Global logistics and amplifying consumer demands have enabled the country to develop a robust export-based manufacturing sector, establishing it as the 'world's workshop'. The essence of industry 4.0 also boils down to the ubiquitous combination of smart or intelligent logistics, created on the pillars of seamless customer services, and visibility in the supply chain, while driving a more efficient business.
In a nutshell, to conduct their operations more intelligently, effectively, and efficiently, logistics companies must invest in new flexible, adaptive, and future-oriented technologies. However, despite many efforts to advance futuristic efforts across supply chains, these processes remain fragmented due to the logistics industry's many moving parts and sectors, and reliance on the traditional processes.
The change is already happening, and the company doing this faster than others by building a competitive edge is Smartr Logistics.
Smartr Logistics (a Smart Express Pvt. Ltd. brand) is a one-stop destination for all logistical requirements with a mission to provide best-in-class logistics services that are tailored to the demands of its clients. Promoted by Mr. Yogesh Dhingra, ex-CFO, COO, & CSO of Blue Dart, Smartr Logistics was founded by passionate business veterans with a combined experience of over 200 years in the logistics industry. It is one of the few players that secured a seed fund of INR 100 crores from the get-go and is determined to establish itself as an industry leader in the coming years. Smartr Logistics aims to be a leading state-of-the-art Indian logistics enterprise venturing into the Air and Surface logistics as well as 3PL, warehousing and fulfilment centres.
STAYING AHEAD OF THE CURVE
• Customer base: 1500+

• Clientele: BFSI companies, Manufacturing based industries, Small and Medium Enterprises, B2B industry, ecommerce platforms and logistics aggregators, D2C (Direct to Consumer) brands, Electronics OEMs, Auto OEMs, Pharma and diagnostic companies, etc.

• Funding: Seed round of INR 100 Cr. from IIFL Private Equity and Jalaj Dani (Asian Paints) family office

• Growth Rate: 40% month-on-month growth

• Presence: Present in 75+ cities across India with 110+ service centres, covering 2,400+ pin codes
LEADER'S PERISCOPE
Yogesh Dhingra has launched on the entrepreneurial career path and nurtures his firm after a 36-year career in varied areas such as assurance, advisory, construction, and logistics. Yogesh spent 27 years with Blue Dart where he was in charge of Operations, Service Quality, Security, IT, Finance, Strategy, Investor Relations, Accounting & Costing, Risk, Legal, Tax, Compliance, Secretarial, and Governance. He was also instrumental in DHL's acquisition of Blue Dart and the stabilization and strengthening of its subsidiary, Blue Dart Aviation Ltd.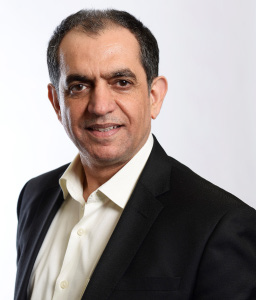 Yogesh's fortification and enhancement of the Dart Surface line (Blue Dart's ground express product) was one of his most daring strategic initiatives. Yogesh was also instrumental in launching Blue Dart's B2C ecommerce logistics service model. In the early years of India's e-commerce between 2012 and 2014, Yogesh drove Blue Dart to expand its logistics services for e-commerce deliveries. He favored an organic 'build' mode over a 'purchase' one based on acquisitions.
Let's see Smartr's journey through the lens of the logistics leader himself.
Edited Excerpts of the Interview
IDEA BEHIND THE INCEPTION OF SMARTR
Samrtr Logistics was founded to bring down India's overall logistics costs. While the cost of logistics in other nations is projected to be in the single digits as a percentage of GDP, India's cost is exorbitant. Smartr's mission is to lower this cost by providing cost-effective, high-quality services to growing organizations and companies, dispelling the myth that "high-quality service comes at a higher cost". The Smartr Logistics' team believes that the start-up can rethink the Indian logistics business in the post-pandemic era by living on modern technology and providing new solutions.
UNIQUE OFFERINGS
Our strategy is to provide tailored solutions to meet the needs and expectations of our partners and clients. As a result, Smartr Logistics debuted its first set of services, the Aerex Air Express service. Customers can pick from Aerex Prime, Aerex Kargo, and Aerex eComm services, based on their needs. These services are meant to address a variety of needs: from delivering modest goods like gifts or documents to transporting huge and important cargo. For a limited number of customers, we've now launched a premium same-day intercity delivery service. We also offer Lokex Intracity- the Same Day Delivery (SDD) service that is customized to our customers' needs. These services set us apart from our competition because of their unique features, aside from on-demand customization, quickness, accessibility, and technology.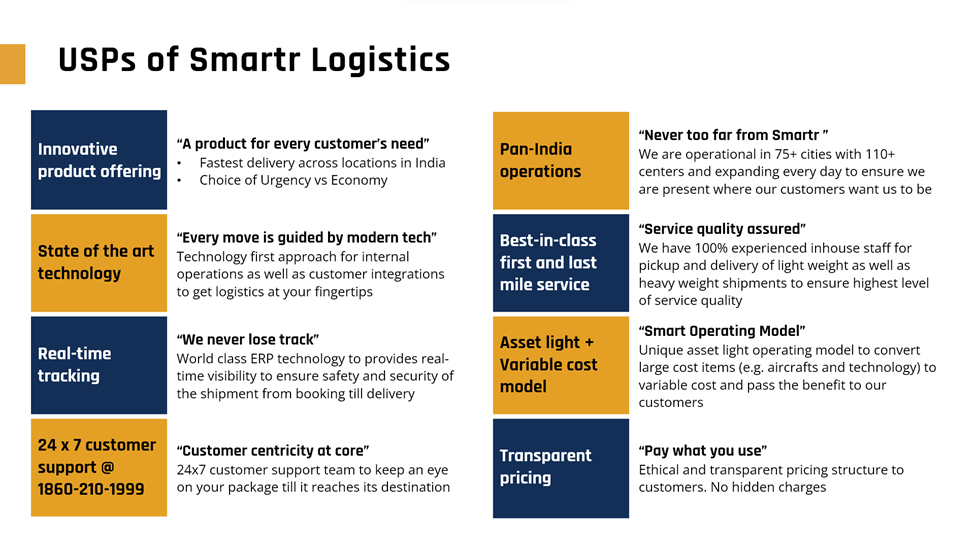 Customer service, clear and real-time tracking, numerous delivery destinations, and digital payment methods are all top priorities for us. To be on top of our game, we have a customer support team available 24 hours a day, seven days a week. Smartr Logistics has grown to over 75+ cities and serves customers all over India since its inception. Our mission is to build a strong network to assist our customers and make doing business in India easier for both big and small businesses.
ACHIEVEMENTS AND APPLAUSE
Same-day interstate express delivery has to be our crowning achievement. Smartr Logistics has reached a significant milestone. This achievement is a first-of-its-kind in India's express logistics market, and we are committed to exceeding client expectations in the future.
On the 1st day of the launch, Smartr became the first logistics company to offer SDD (Same-day-delivery) to its clients in the form of "Lokex-Intracity".
We have on-boarded and are working with 1500+ clients that trust us with their valuable shipments in just nine months of business. For us, that is the greatest testament and acknowledgement.
Read Our July 2022 Edition Here
PLANS AHEAD
As a forward-thinking logistics firm, we seek to exceed customer, stakeholder, and employee expectations daily.
Smartr has carved out a niche for itself in less than ten months. We began with pan-India operations and intend to increase our network and reach in the future. We're also working on forming an international partnership to start providing dependable international express delivery. Smartr Logistics will also expand into surface logistics in the next three months, which will increase our flexibility, before moving on to 3PL, warehousing, and fulfilment centres. Smartr Logistics will be one of India's leading logistical suppliers in the next two to three years.
WORDS OF WISDOM
Budding entrepreneurs must have both a micro and macro vision for their business. For starters, a new businessperson must have a long-term strategy for at least 5 to 7 years. While year one is imperative, the business plan should be spanned for a longer term considering all the aspects: policies, expected growth, business development, innovation, and human capital. It is imperative to recruit passionate and committed individuals who will fight the battle with you, as that becomes the pillar for success for any enterprise. It is especially crucial for the service-based industry, like logistics, where manpower is a key differentiator. Any business idea aims to solve a problem. Therefore, the product or service should be based on dynamic technology, providing an innovative solution that is not present in the market, thus creating a niche for itself in the industry.