Rakesh Jhunjhunwala, India's billionaire business magnate, stock trader and investor, has achieved great success and enormous wealth through the ownership of multiple lines of enterprise. Known as India's Warren Buffet and the Big Bull of the Indian stock market, Rakesh Jhunjhunwala and Associates publicly hold 37 stocks with a net worth of over Rs. 32,934.0 crore, as per the latest corporate shareholdings filed.
An ace investor, Rakesh Jhunjhunwala favours stocks in the Finance, Tech, Retail and Pharma companies. Tagged in the list of Top 50 Rich Personalities who have invested in more than 20 big companies, Rakesh Jhunjhunwala owns stocks of Titan, CRISIL, Aurobindo Pharma, Praj Industries, NCC, Aptech Limited, Ion Exchange, MCX, Fortis Healthcare, Lupin, VIP Industries, Geojit Financial Services, Rallis India, Jubilant Life Sciences, and many more.
He manages his portfolio as a partner in his asset management firm, Rare Enterprises.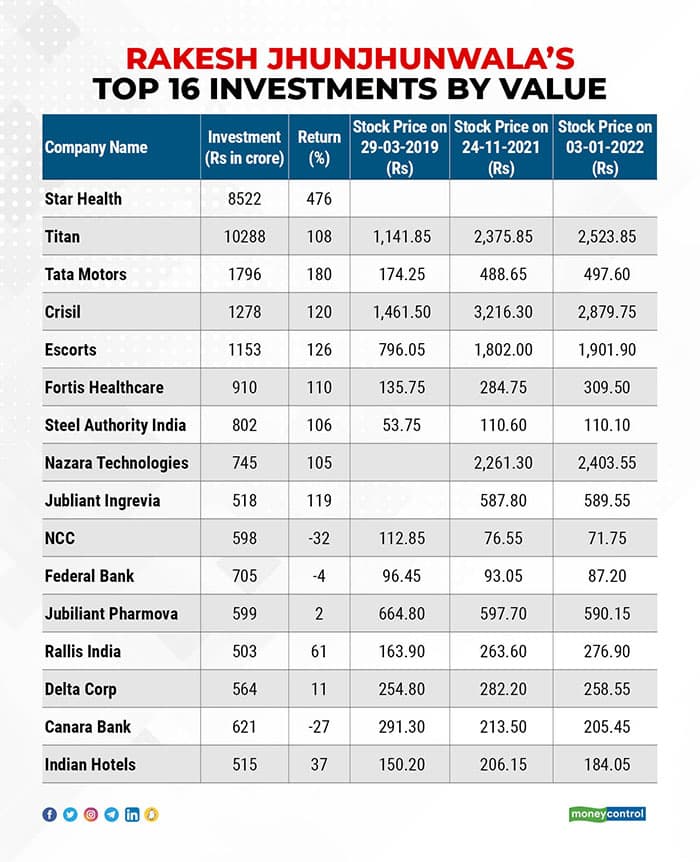 About family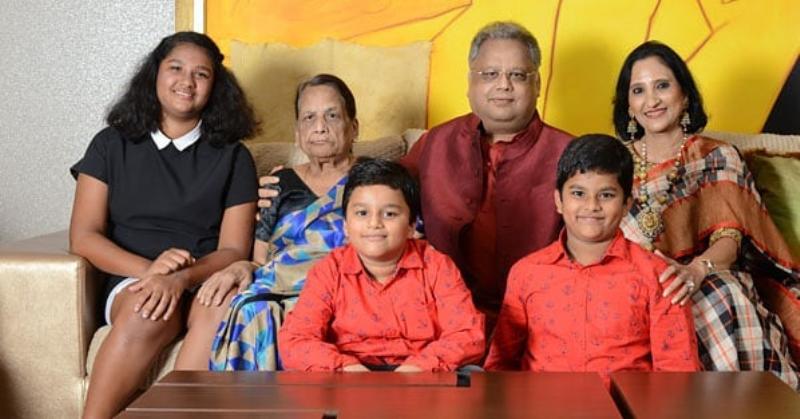 Rakesh Jhunjhunwala was born on July 5th 1960 in a Rajasthani family living in Bombay. His father was a commissioner of income tax then.
Education
A graduate from Sydenham College of Commerce and Economics and The Institute of Chartered Accountants of India (ICAI).
Influenced by his father, Rakesh Jhunjhunwala enrolled himself at the Institute of Chartered Accountants of India. He began investing in the stock market when he was in college, attaining his degree. With Rs 5000 as capital, he decided to dive into Dalal Street.
Also Read : Could Botox be harmful? Can they be trusted?
Career
Jhunjhunwala is the chairman of Aptech Limited and Hungama Digital Media Entertainment Pvt. Ltd. and chairs among the board of directors of Prime Focus Limited, Geojit Financial Services, Bilcare Limited, Praj Industries Limited, Provogue India Limited, Concord Biotech Limited, Innovasynth Technologies (I) Limited, Mid-Day Multimedia Limited, Nagarjuna Construction Company Limited, Viceroy Hotels Limited, and Tops Security Limited. He is popularly referred to as the "King of Bull Market", and is widely known for his stock market predictions and bullish outlooks.
The first big profit of Rakesh Jhunjhunwala was ₹5 lakh in 1986. Between 1986 and 1989, he earned almost ₹20-25 lakh profit.
As of 2021, his biggest investment is in Titan Company which is worth ₹7,294.8 crores.
Jhunjhunwala also has stakes in privately held companies such as Star Health Insurance, Metro Brands, and Concord Biotech.
Currently, he is a member of the Board of Advisors of India's International Movement to Unite Nations (I.I.M.U.N.).) (https://en.wikipedia.org/)
Establishing Rare Enterprises
Rakesh Jhujhunwala got married to Rekha Jhunjhunwala in 1987. Rekha is also a stock market investor. In 2003, the couple established their own stock trading firm named Rare Enterprises. The name is derived from the first two initials of his and his wife.
Rakesh's RA+Rekha's RE= Rare
A forever love with Bollywood
Did you know that this ace investor has also produced one of the successful Bollywood movies?
Rakesh Jhunjhunwala's admiration for Bollywood films is known far-wide. He has produced the Hindi movie 'English Vinglish'. He is also a big foodie who enjoys Chinese cuisine the most. He also enjoys watching cooking shows.
Portfolio
Rakesh Jhunjhunwala's portfolio tells us that ups and downs are part of a business that can't be separated from the corporate world. If we look at his portfolio, we see changes in holdings from the last quarter in which eight companies shows a decrease in the percentage of their holdings and five companies shows an increase in their holding.
Controversy
The Securities and Exchange Board of India (SEBI) has moved to settle an 'insider trading' case involving ace investor Rakesh Jhunjhunwala, wife Rekha Jhunjhunwala and eight others who were accused of unusual dealing in shares of Aptech in 2020. In July 2021, SEBI settled the issue after a total payment of ₹35 crores from Jhunjhunwala and his associates where Jhunjhunwala paid ₹18 crores and his wife paid ₹3.2 crores
Rakesh Jhunjhunwala and Star health Allied insurance
With safe crop investment of India and West bridge, Rakesh promotes Star Health and Allied insurance in which he has a 14.98% stake, amounting to a total of 8.28 crore equity shares.
The average purchase price of his shares is about rupees 15 5.28 per share and his closing prices of about rupees 809 per share. The total return that Rakesh gets from Star health Allied insurance was approximate 421% with a total cost of acquisition is about Rs 1287 crore and a current stakeholding value of Rs 6705 crore in December 2021.
Giving back to the society
Rakesh Jhnjhunwala generally donates around 25% of his annual income towards charitable work in India.
With an annual donation of ₹50 crore, ace stock market investor Rakesh Jhunjhunwala stormed into the Edelgive Hurun India Philanthropy list 2021. The billionaire investor donated approximately ₹13.69 lakh per day. Jhunjhunjwala's philanthropic efforts is focused on the education sector. He is a trustee of Agastya International Foundation and also supports Ashoka University.
Further Reading :